China SWG 12 14 16 18 Low Carbon Steel GI Binding Wire
---
SWG 12 14 16 18 galvanized iron wire is an excellent metal material with remarkable mechanical properties, corrosion resistance, and a wide range of applications. Its significance in the fields of construction, industry, and agriculture cannot be overstated, highlighting its enormous potential for development. If you are seeking a cost-effective, reliable, and user-friendly material, SWG 12 14 16 18 galvanized iron wire is undoubtedly the ideal choice for you.
China SWG 12 14 16 18 Low Carbon Steel GI Binding Wire
---
China SWG 12 14 16 18 Low Carbon Steel GI Binding Wire
---
GI Low Carbon Steel Wire Introduction
GI Iron Wire is made from high-quality low carbon steel wire, which is then coated with a layer of zinc through the process of hot-dip galvanization. This coating provides a protective barrier against rust and corrosion, ensuring the longevity and reliability of the wire. It is available in different gauges or thicknesses, ranging from SWG8 to SWG22, to accommodate various application requirements.

---
GI Low Carbon Steel Binding Wire Details
| | |
| --- | --- |
| GI Mild Steel Wire Brand | SUNSHINE |
| Model Number | galvanized low carbon steel wire |
| Material | high quality iron wire Q195 Q245 |
| Surface Treatment | Hot-dipped Galvanized/Electro-Galvanized |
| Processing Service | Welding, Bending, Cutting |
| Wire Diameter | 0.56mm-5mm |
| Surface | Galvanised Zinc |
| Coil weight | 5kg --- 500 Kg |
---
GI Iron Tie Wire Diameter Size
In the context of galvanized wire, SWG refers to Standard Wire Gauge. It is a standardized system used for measuring the diameter of wires, including galvanized wires. The SWG system assigns a specific number to each wire diameter, with smaller numbers indicating thicker wires. The SWG measurement is commonly used in the United Kingdom and other countries for specifying the size of wires and cables.
what is the conversion rules about GI iron wire from SWG gauge(mm) into BWG gauge(mm)?
Gauge

SWG(mm)

BWG(mm)

Metric System

8#

4.06

4.19

4.00

9#

3.66

3.75

/

10#

3.25

3.40

3.50

11#

2.95

3.05

3.00

12#

2.46

2.77

2.80

13#

2.34

2.41

2.50

14#

2.03

2.11

/

15#

1.83

1.83

1.80

16#

1.63

1.65

1.65

17#

1.42

1.47

1.40

18#

1.22

1.25

1.20

19#

1.02

1.07

1.00

20#

0.19

0.89

0.90

21#

0.81

0.813

0.80

22#

0.71

0.711

0.70

23# to 34# are available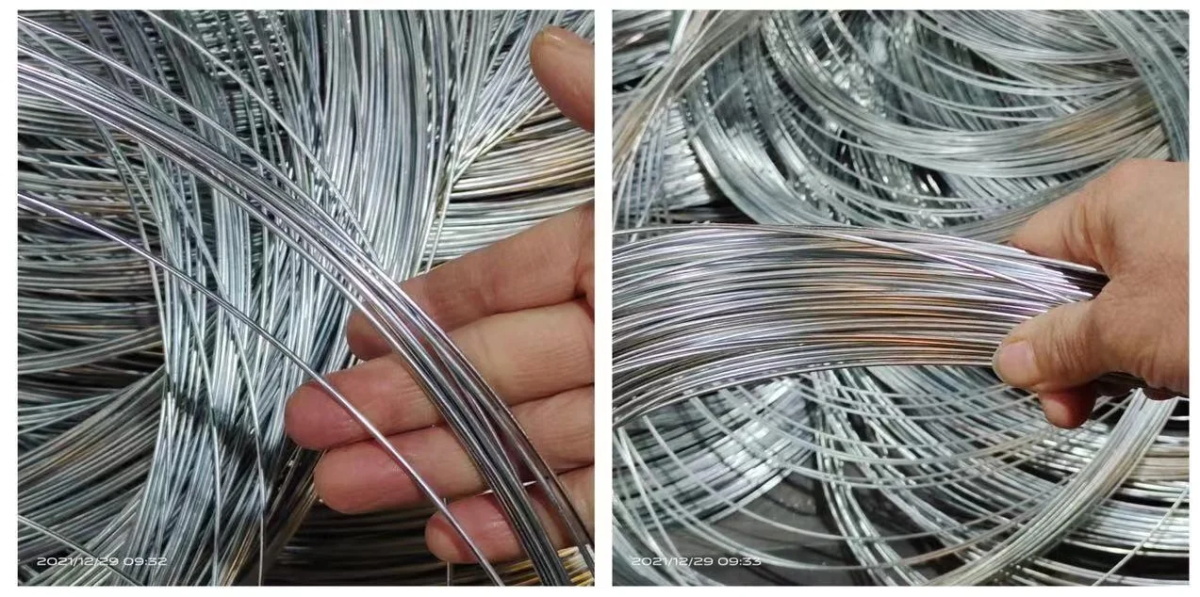 ---
GI Rebar Tie Iron Wire Manufacturing Process
The manufacturing process of Galvanized Iron (GI) wire involves several steps. While the specific details may vary depending on the manufacturer, here is a general overview of the process:
-Wire Drawing: The process begins with wire drawing, where steel rods or billets are drawn through a series of dies to reduce their diameter and form a long continuous wire. This wire is typically made of low carbon steel.

-Cleaning and Pickling: The drawn wire is then cleaned to remove any dirt, rust, or scale that may be present on the surface. This is usually done through a process of pickling, where the wire is immersed in an acid solution to dissolve any impurities.

-Galvanizing: After cleaning, the wire is ready for the galvanizing process. Galvanization involves coating the wire with a layer of zinc to provide corrosion resistance. There are two common methods of galvanizing:

-Hot-Dip Galvanizing: In this method, the wire is immersed in a bath of molten zinc. The heat of the bath causes a metallurgical reaction between the steel and zinc, forming a zinc-iron alloy coating on the wire's surface. This coating provides excellent protection against corrosion.

-Electroplating: In this method, the wire is passed through an electrolyte solution containing zinc ions. An electric current is applied, causing the zinc ions to deposit onto the wire's surface, forming a thin layer of zinc coating.

-Cooling and Drying: After galvanizing, the wire is cooled to solidify the zinc coating. It is then dried to remove any excess moisture.

-Spooling and Packaging: The final step involves spooling the galvanized wire onto large spools or coils for ease of transportation and storage. The wire is typically packaged in bundles or wrapped in protective materials to prevent damage during shipping.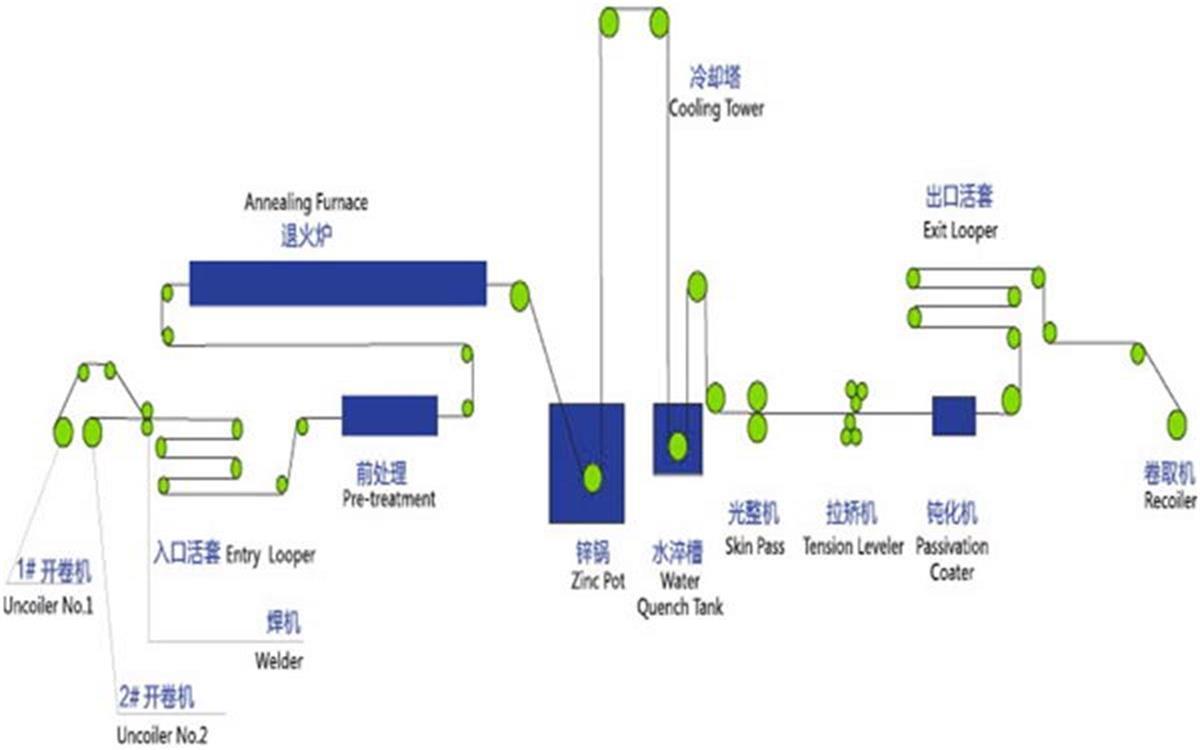 ---
GI Iron Wire Properties
-Corrosion Resistance: The galvanization process adds a layer of zinc coating to the wire, providing excellent corrosion resistance. This makes GI wire suitable for outdoor and humid environments where exposure to moisture and corrosive elements is a concern.
-Strength and Durability: GI wire is known for its strength and durability. The underlying steel wire provides structural integrity, while the zinc coating adds an extra layer of protection against wear and tear.
-Flexibility: GI wire is relatively flexible, allowing it to be easily bent, twisted, or shaped to suit different construction needs. This flexibility makes it versatile for various applications, including tying reinforcement bars and supporting structures.
-Ease of Handling and Installation: GI wire is lightweight and easy to handle, making it convenient for installation purposes. It can be easily cut, bent, and secured in place using appropriate tools.
-Cost-Effective: GI wire is generally cost-effective compared to other types of wires, making it a popular choice in construction and other industries.
---
Low Carbon Steel GI Binding Wire Application
Galvanized Iron (GI) wire is commonly used for binding purposes due to its strength, durability, and corrosion resistance. Here are some specific applications where GI wire is used for binding:
-Construction: GI wire is widely used in the construction industry for binding reinforcement bars (rebars) in concrete structures. It helps hold the rebars together, providing structural integrity and strength to the concrete.
-Fencing: GI wire is commonly used for binding and securing fencing materials, such as chain-link fences. It helps hold the fence fabric in place and provides stability and support.
-Packaging: GI wire is used for binding and securing packages, bundles, and pallets. It helps keep the items tightly bound together during transportation and storage.
GI Iron Wire also has other uses:
-Horticulture and Gardening: GI wire is used for binding and supporting plants, vines, and branches in horticulture and gardening. It helps create trellises, plant supports, and structures for climbing plants.
-Crafts and Artwork: GI wire is often used in various crafts and artwork projects that involve wire sculpture, jewelry making, and other creative applications. Its flexibility and strength make it suitable for shaping and forming artistic designs.
---
Packing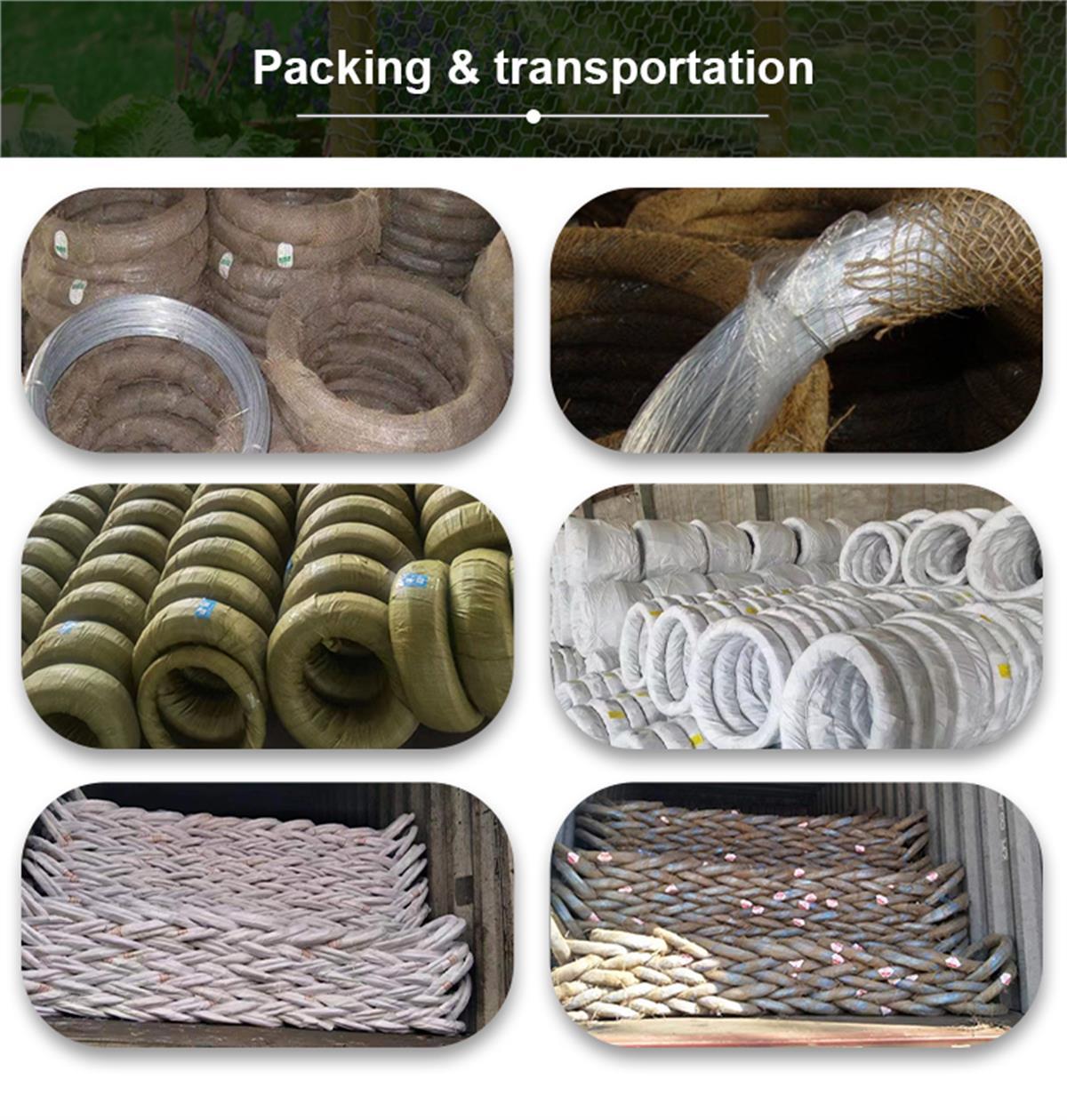 ---
Wholesale GI Iron Wire Manufacturers
SUNSHINE has own professional team and equipment to inspect product items such as material standard, wire size, weight,tensile strength, and other customer demand. Meanwhile, we could guaranteed the products quality as you expect.
Whether you have specific requirements or need assistance in selecting the right products, our dedicated team is here to help. Contact us today and let SUNSHINE be your trusted partner for all your hardware and construction material needs.
---
FAQ
1. who are we?
We are based in Hebei, China, start from 2010,sell to South America(50.00%),Mid East(20.00%),Africa(15.00%),North America(10.00%),Eastern Europe(5.00%). There are total about 11-50 people in our office.
2.how can we guarantee quality?
Always a pre-production sample before mass production;
Always final Inspection before shipment;
3.what can you buy from us?
Nails,Steel Wire,Wire Pipe,Wire Mesh,Malleable Iron Fitting
4. why should you buy from us not from other suppliers?
The products are mainly exported to Africa, European and American markets and South America; the company has its own stable cooperative factory, the product quality is first-class in the country, and has a good reputation in the international market.
5. what services can we provide?
Accepted Delivery Terms: FOB,CFR,CIF;
Accepted Payment Currency:USD,EUR,CNY;
China Construction Use SWG 6 7 8 10 Mild Steel GI Wire