China Wholesale Black PVC Coated Tie Iron Wire
---
PVC coated galvanized wire's ability to withstand harsh conditions, resist rust and corrosion, and maintain structural integrity makes it a preferred choice for projects that require durable and long-lasting wire solutions. Its versatility and resilience make it invaluable in applications where exposure to environmental elements could otherwise compromise the integrity of the wire.The combination of galvanization and PVC coating results in a wire that possesses exceptional corrosion resistance, making it suitable for various applications across industries. It's commonly used in construction for reinforcing structures, fencing purposes in residential, commercial, and agricultural settings, and in manufacturing for its strength and longevity.
China Wholesale Black PVC Coated Tie Iron Wire
---
China Wholesale Black PVC Coated Tie Iron Wire
---
PVC Coated Tie Iron Wire Introduction
PVC Coated Wire is manufactured with quality iron wire. Common colors available for PVC coated wire are green and black. Other colors also available on request.
PVC Coated Wire Application: The most popular use for PVC coated wire is in the construction of chain link fences for industrial security fences, freeways and tennis courts. It is also used in other applications such as coat hangers and handles.
PVC coated wire has many colors, of which black, green, white, blue, red are common colors.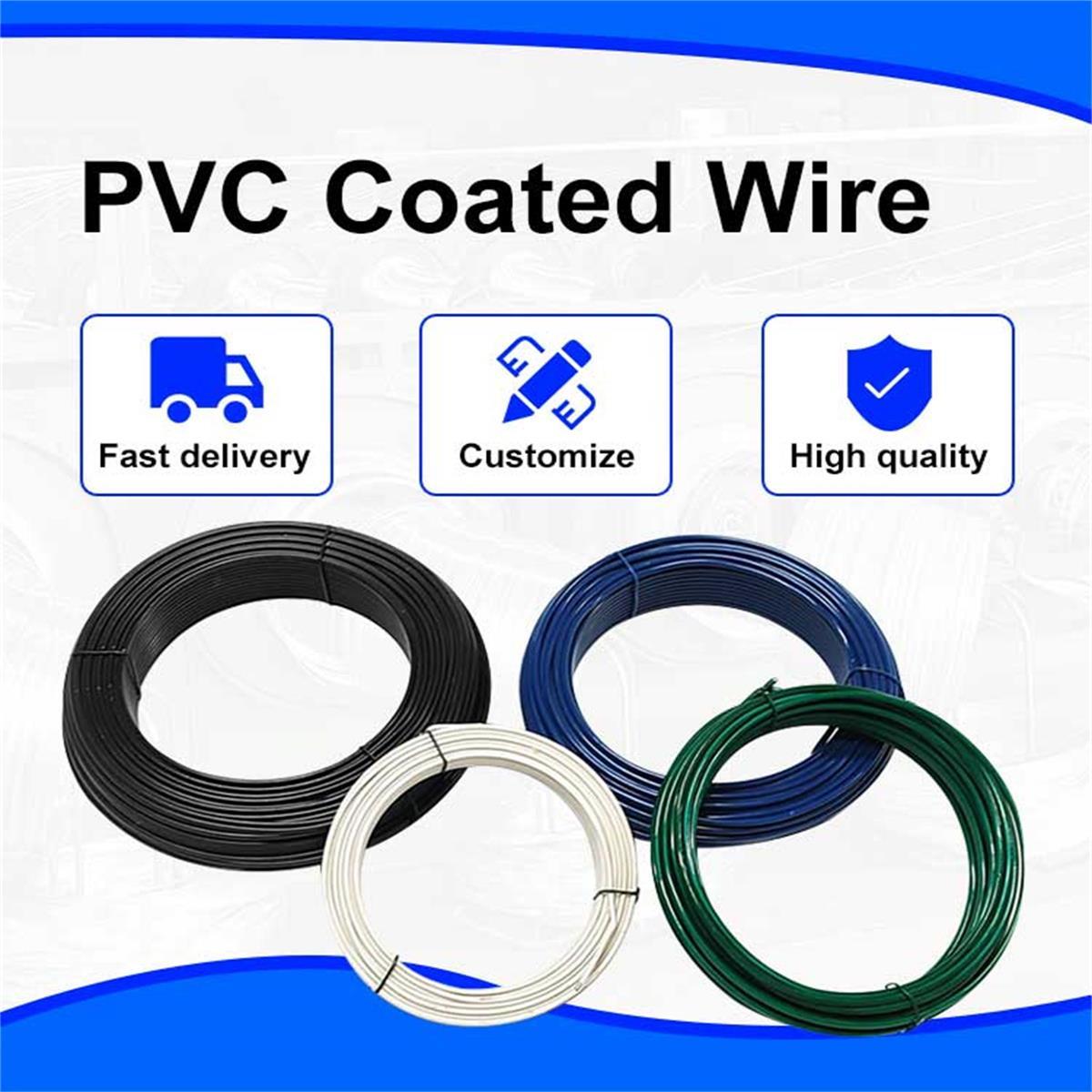 ---
PVC Coated Wire Specification:
PVC Coated Wire Specification:

Core Wire Diameter

Outer Diameter

Material
Low Carbon Steel Wire:Q195 Q235

1.0mm -3.5mm
BWG.11-20
SWG. 11-20

1.4mm -4.0mm
BWG. 8-17
SWG. 8-17

P.V.C. Coating Thickness : 0.4mm -0.6mm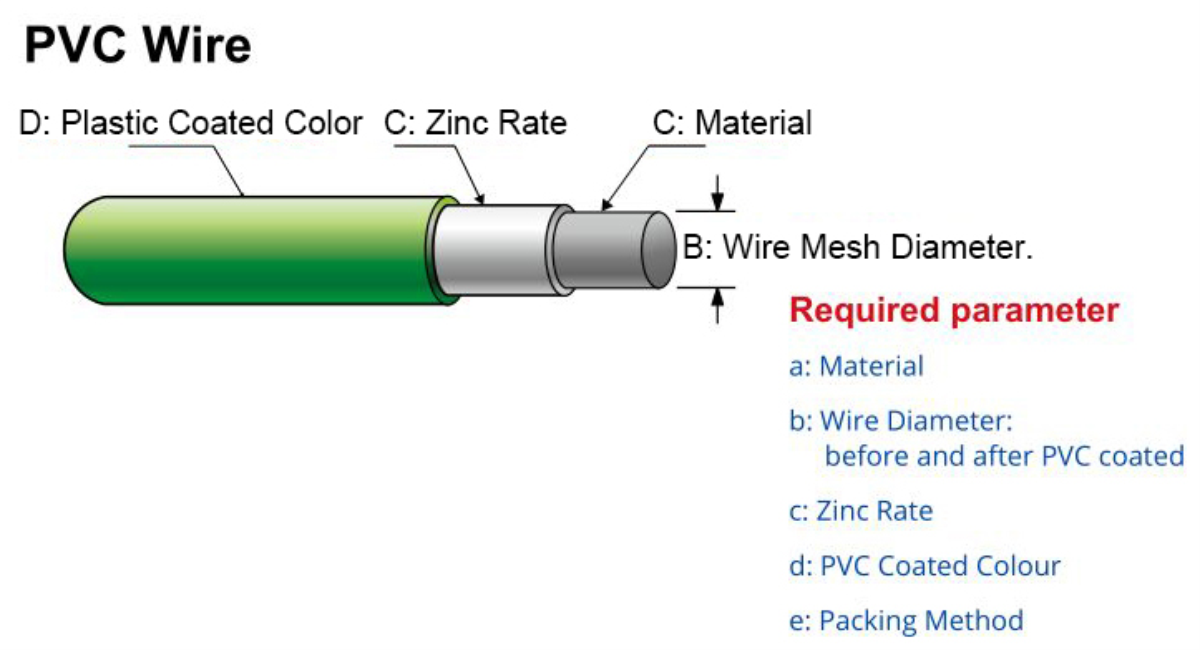 ---
Wire Size Gauge after coating
| | | | |
| --- | --- | --- | --- |
| Wire Gauge | SWG(mm) | BWG(mm) | Metric(mm) |
| 8 | 4.05 | 4.19 | 4.00 |
| 9 | 3.66 | 3.76 | 4.00 |
| 10 | 3.25 | 3.40 | 3.50 |
| 11 | 2.95 | 3.05 | 3.00 |
| 12 | 2.64 | 2.77 | 2.80 |
| 13 | 2.34 | 2.41 | 2.50 |
| 14 | 2.03 | 2.11 | 2.50 |
| 15 | 1.83 | 1.83 | 1.80 |
| 16 | 1.63 | 1.65 | 1.65 |
| 17 | 1.42 | 1.47 | 1.40 |
| 18 | 1.22 | 1.25 | 1.20 |
| 19 | 1.02 | 1.07 | 1.00 |
| 20 | 0.91 | 0.84 | 0.90 |
| 21 | 0.81 | 0.81 | 0.80 |
| 22 | 0.71 | 0.71 | 0.70 |
---
The Benifits of Black PVC Coated Low Carbon Steel Tie Wire
-Corrosion Resistance: The primary advantage of PVC coated wire is its ability to resist corrosion and rust. The PVC layer acts as a shield against moisture, chemicals, and harsh weather conditions, extending the wire's lifespan in both indoor and outdoor settings.
-Durability: The combination of the sturdy wire base and the protective PVC coating enhances the wire's durability, making it robust enough to withstand mechanical stress and environmental factors without compromising its structural integrity.
-Versatile Aesthetics: PVC coated wire is available in various colors, enabling users to select options that match specific applications or blend seamlessly with surroundings. This feature is especially advantageous in decorative or artistic projects.
-Flexible and Malleable: Despite its protective coating, PVC coated wire remains flexible and easy to manipulate, allowing for convenient shaping and bending without compromising its protective qualities.
-Cost-effective Solution: While initially more expensive than uncoated wire, the extended lifespan and reduced maintenance requirements make PVC coated wire a cost-effective investment in the long run, especially in harsh environments prone to corrosion.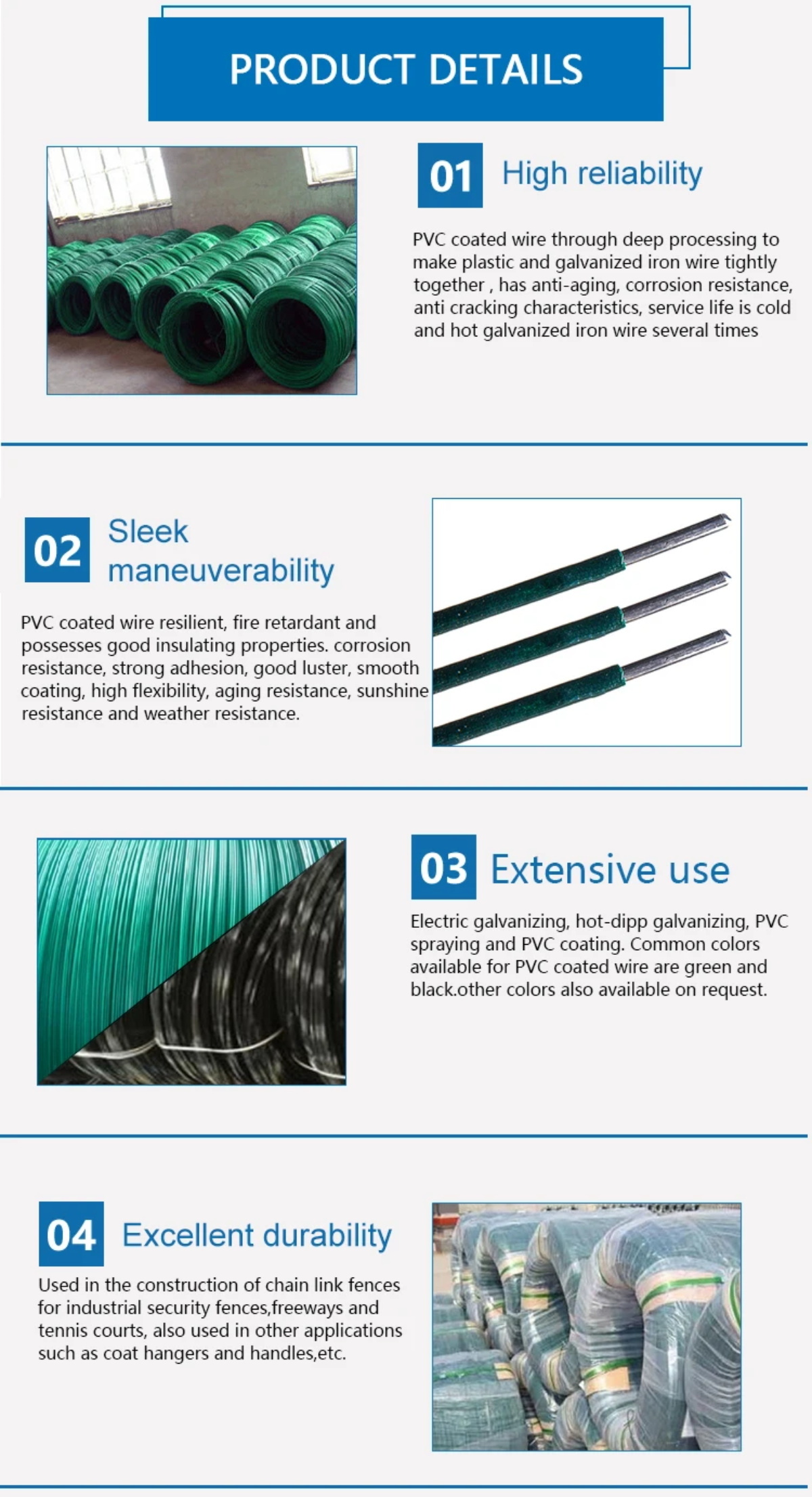 ---
PVC Coated Iron Wire Applications
PVC Coated Iron Wire is usually used as binding wire and made into coat hangers and handles.
The versatility of PVC coated wire makes it indispensable in numerous sectors:
Fencing and Security: In the realm of fencing, PVC coated wire is extensively used due to its resilience against weather conditions. Whether it's for perimeter fencing, animal enclosures, or security purposes, this wire offers a long-lasting solution.
Agriculture: Farming operations benefit from PVC coated wire in various ways. It is employed in constructing trellises, supporting plants, and creating boundaries for livestock enclosures due to its resistance to moisture and chemicals found in agricultural settings.
Construction: The construction industry utilizes PVC coated wire for applications like reinforcing concrete structures, wire mesh panels, and suspended ceilings. Its corrosion resistance ensures longevity in diverse building environments.
Crafts and DIY Projects: PVC coated wire's availability in various colors and thicknesses makes it ideal for crafts, DIY projects, and artistic endeavors, offering both functionality and aesthetic appeal.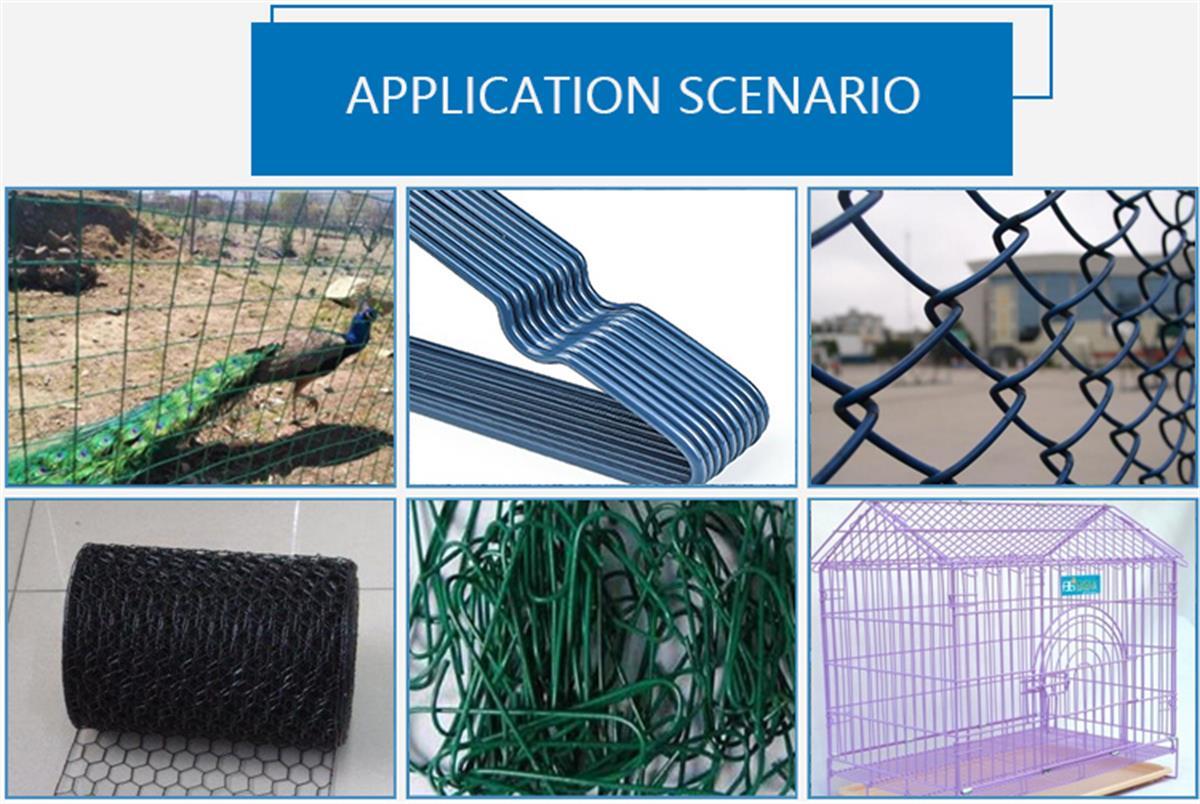 ---
Packing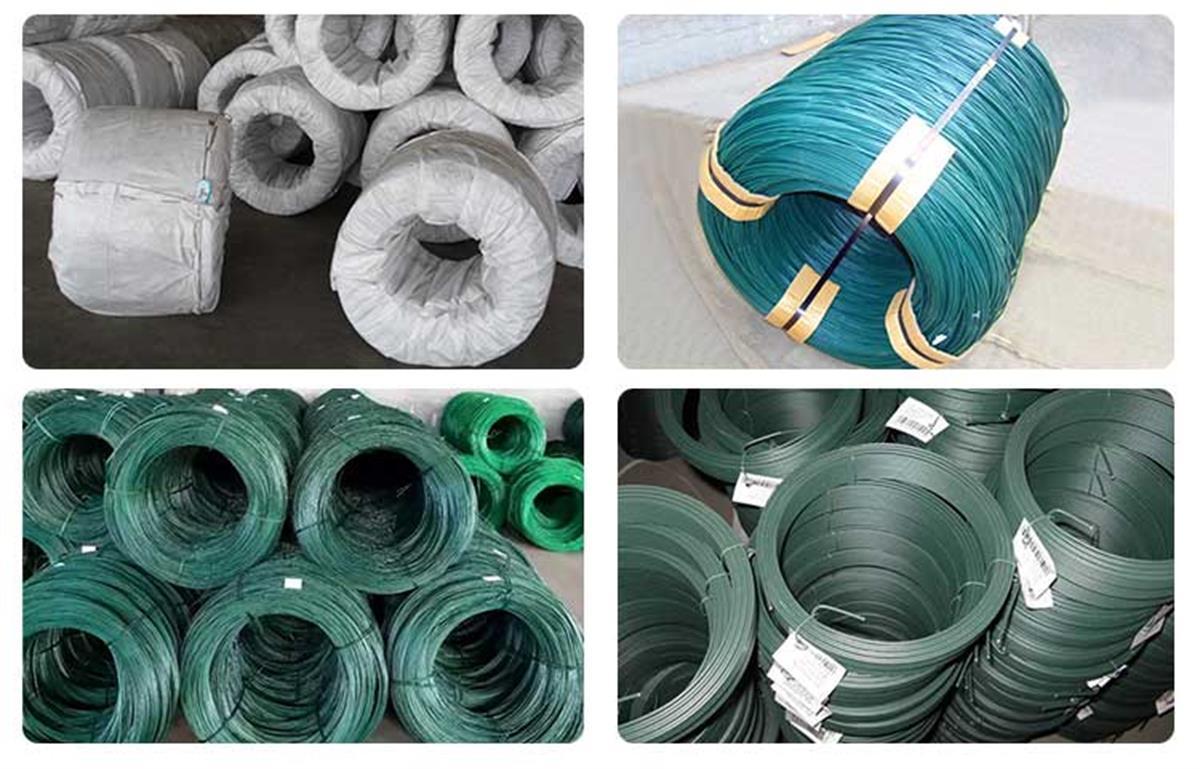 ---
China Wholesale PVC Coated Iron Binding Wire Manufacturers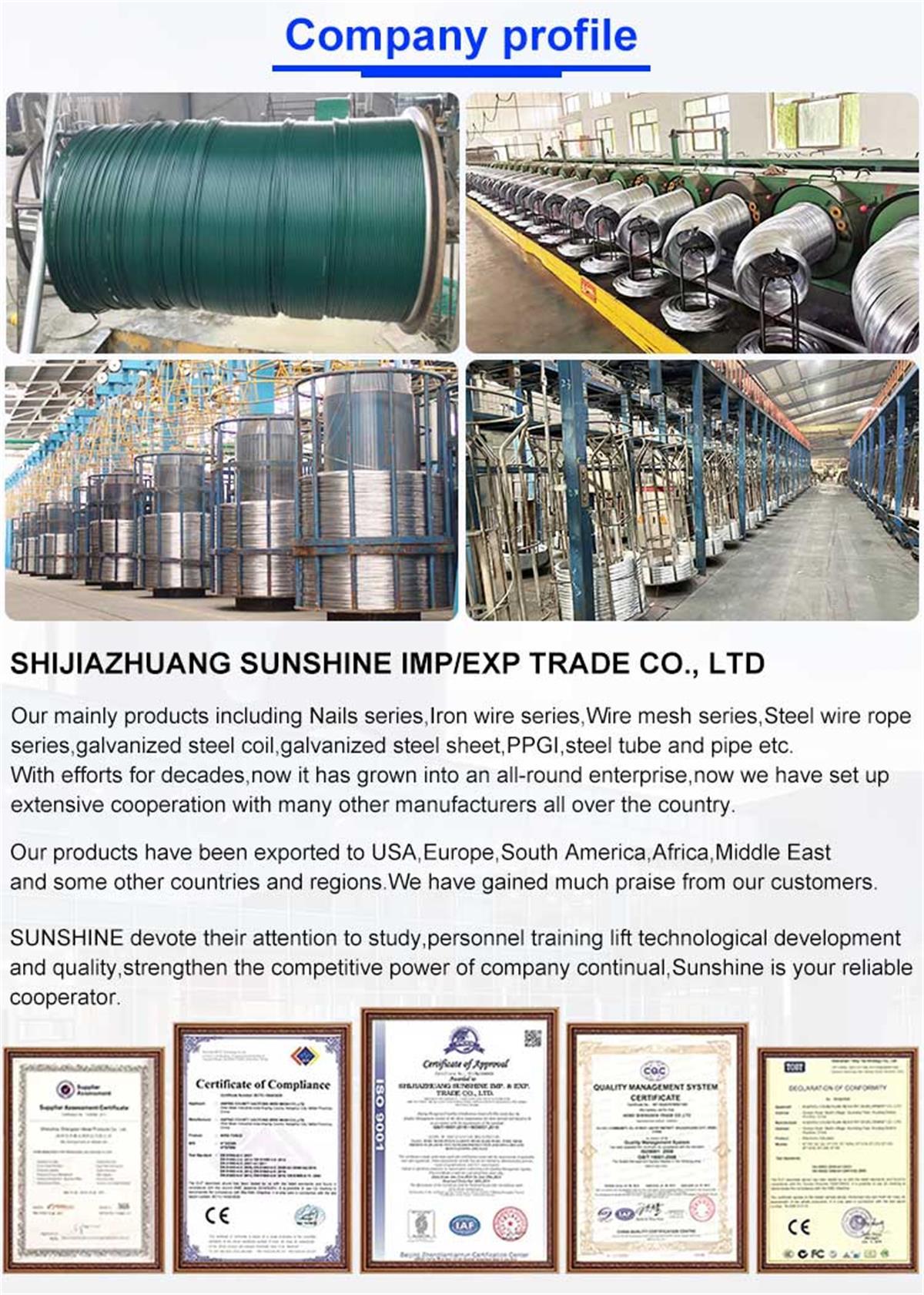 ---
FAQ
What do you want to know?
Q:What service can you provide?
A:Accepted Delivery Terms: FOB,CFR,CIF,EXW,DDP,DDU,Express Delivery;
Accepted Payment Currency:USD,EUR,CNY;
Accepted Payment Type: T/T,L/C,Credit Card,PayPal,Western Union,Cash;
Language Spoken:English,Chinese
Q:Are you a manufacturer?
A:Yes,we have specialized in this field for about 15 years experience.
Q:Could you provide sample?
A:Yes,we can provide sample with our catalogue.
(But the courier charge will on your side)
Q:Can we visit your factory?
A:Warmly welcome once we have your schedule we will pick you up .
Q:How do you make our business long-term and good relationship?
A:1.We keep good quality and competitive price to ensure our customers' benefit.
2. We respect every customer as our friend and we sincerely do business and make friends with them, no matter where they come from.
China Wholesale Green Blue PVC Coated Galvanized Baling Wire