galvanized smooth twisted shank umbrella head roofing nails
---
Umbrella Head Roofing Nails , Rubber or Plastic Washers are Available. Roofing nails, as its name suggests, are designed for roofing materials installation. These nails, with smooth or twist shanks and umbrella head, are the mostly used type of nails with less cost and good property.
galvanized smooth twisted shank umbrella head roofing nails
---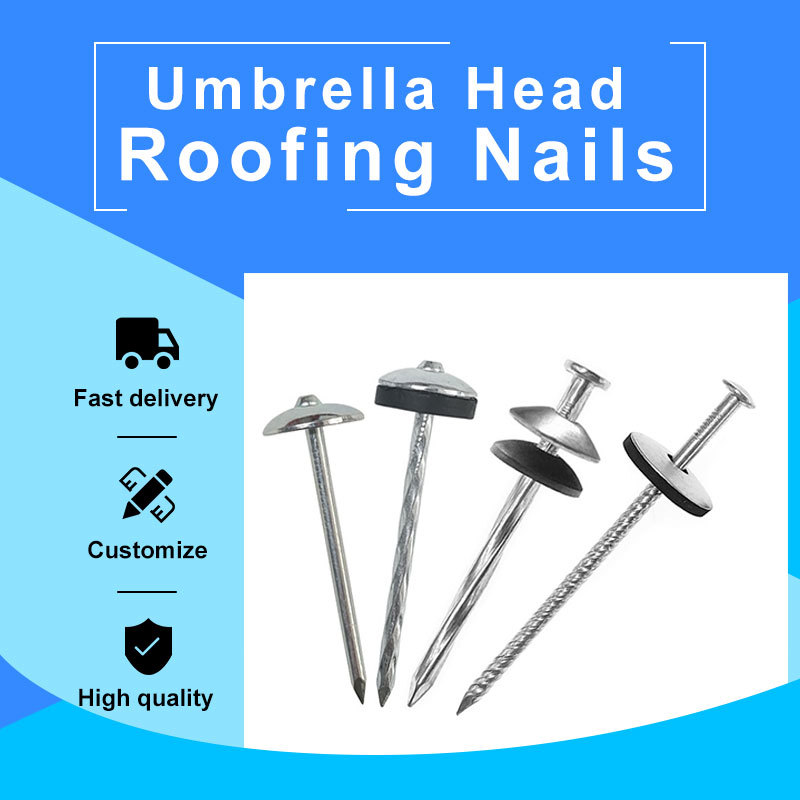 Umbrella roofing nails are specially designed for the installation of roofing materials. umbrella nails have a smooth or twisted shank and umbrella head,
which prevent roofing sheets from tearing around the nail head, and have an artistic and decorative effect. umbrella nails are one of the most used
nails and are characterised by their low cost and high performance.
Umbrella roofing nails specification:
* Material: carbon steel Q195, Q235
* Diameter: 8–13gauge.
* Length: 1 1/2" – 3".
* Head: umbrella, sealed umbrella.
* Head diameter: 14mm 18mm 20mm
* Shank type: smooth, twisted.sprial,washer
* Point: diamond or blunt.
* Surface treatment:bright, electro galvanized, hot dipped galvanized.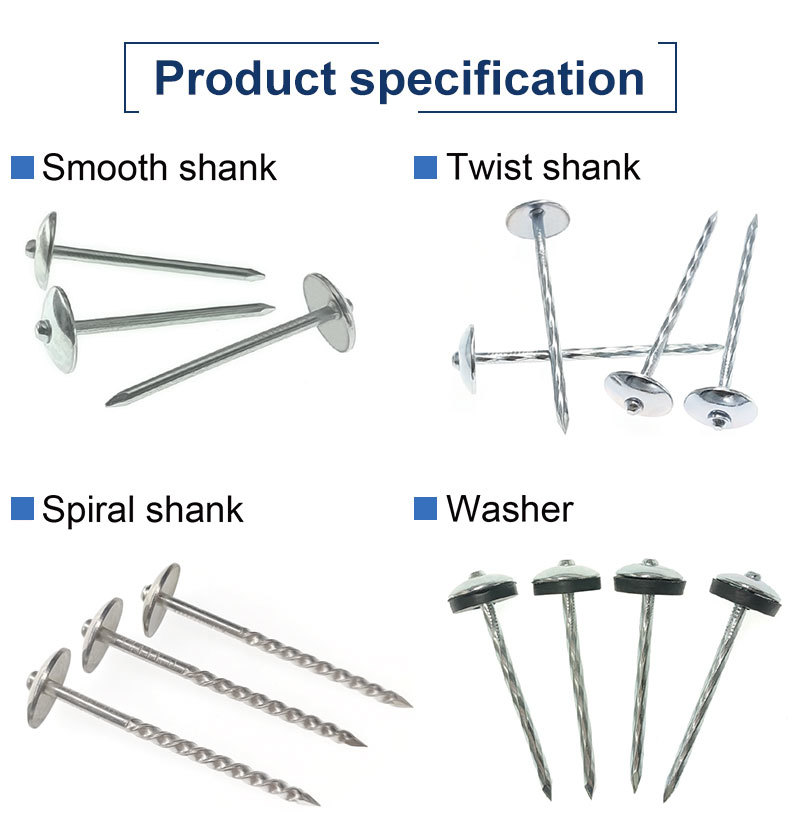 Umbrella roofing nails size: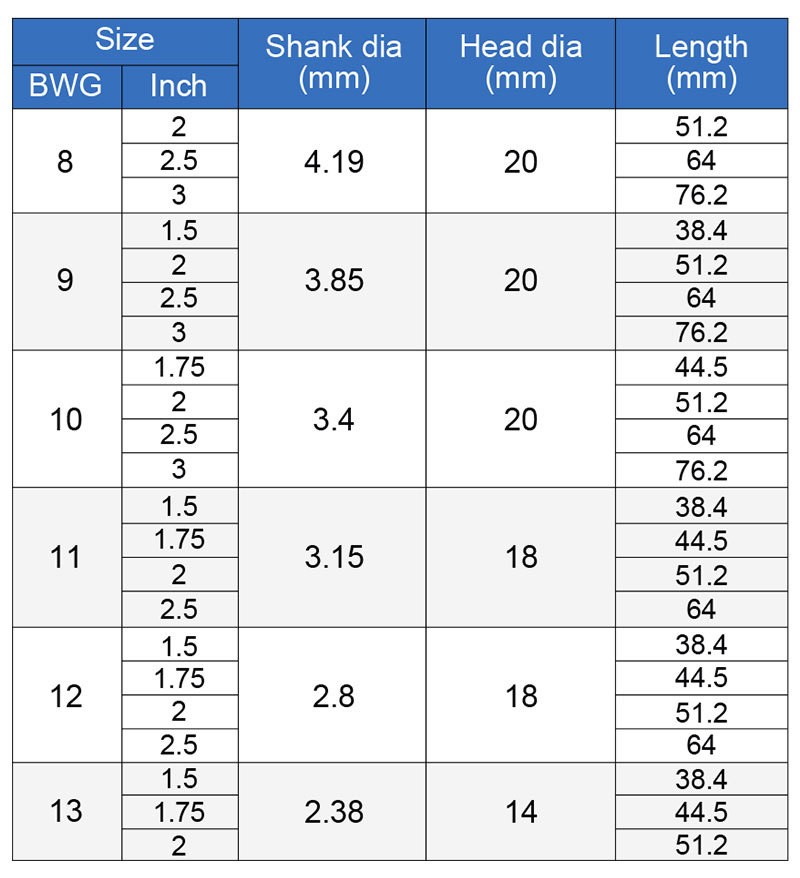 Umbrella roofing nails package:
* Package * Bulk packing: packed with humidity resistant plastic bags, binding with PVC belt, 25–30 kg/carton.
* Pallet packing: packed with humidity resistant plastic bags, binding with PVC belt, 5 kg/box, 200 boxes/pallet.
* Gunny bags: 50 kg/gunny bag. 1 kg/plastic bag, 25 bags/carton.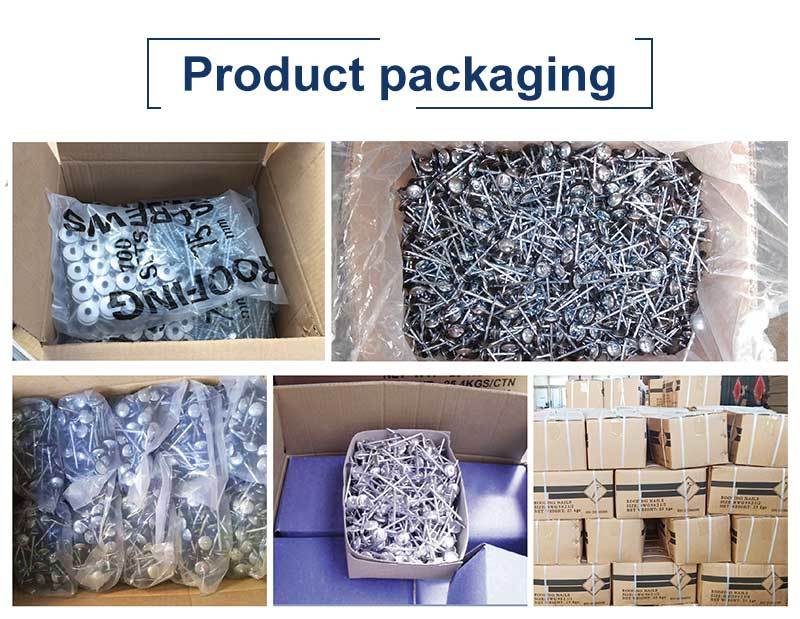 Umbrella roofing nails production video:
Attention:
Corrugating nails in the use of use we can start from these aspects. For the nailing depth: generally
we can nail into the concrete 20-30mm effect, brick masonry is 30-50mm, thin steel plate thickness
is relatively less, between 1-3.5mm; It is best to use wire cutters to knock on steel nails, or first nail
the steel nails on the small wooden strip, and then nail into the collective, when grasping the nails
with your bare hand, you should prevent tapping your fingers.

The force should be positive when striking, use a larger hammer (or hammer), the knocking force
should be large, the number of knocks should be as little as possible, and the depth of the last
knock should be deeper; Nail high grade (200# above) concrete, if conditions, choose to drill a hole,
the depth of the steel nail is 1/5-1/3 of the depth; When tapping, attention should be paid to grasp
the strength to prevent the steel nail from flying
If you need know about more details about umbrella roofing nails,please contact us,
we can offer you samples.
galvanized umbrella head roofing nails for roofing