China High Quality White PVC Coated Iron Binding Wire
---
PVC coated iron wire stands as a testament to the fusion of strength, durability, and adaptability. Its applications span across construction, agriculture, fencing, and creative endeavors, showcasing its versatility and reliability. As industries continue to evolve, PVC coated iron wire remains a cornerstone material, meeting diverse demands while ensuring longevity, resilience, and functionality. This wire's ability to combine the inherent strength of iron with the protective benefits of PVC coating makes it an indispensable asset in modern applications, contributing to the success and longevity of various projects across multiple sectors.
China High Quality White PVC Coated Iron Binding Wire
---
China High Quality White PVC Coated Iron Binding Wire
---
PVC Coated Tie Iron Wire Introduction
PVC coated iron wire represents a fusion of sturdy iron wire with a protective layer of PVC, a durable synthetic polymer renowned for its resistance to corrosion, weathering, and abrasion. The PVC coating process involves applying a layer of PVC onto the iron wire, providing an additional shield against environmental elements that could cause corrosion or damage.Iron wire, known for its robustness and malleability, serves as the foundation for PVC coated iron wire. The PVC coating augments the wire's strength, durability, and resilience, elevating it to meet the demands of various applications across industries.
PVC coated wire has many colors, of which black, green, white, blue, red are common colors.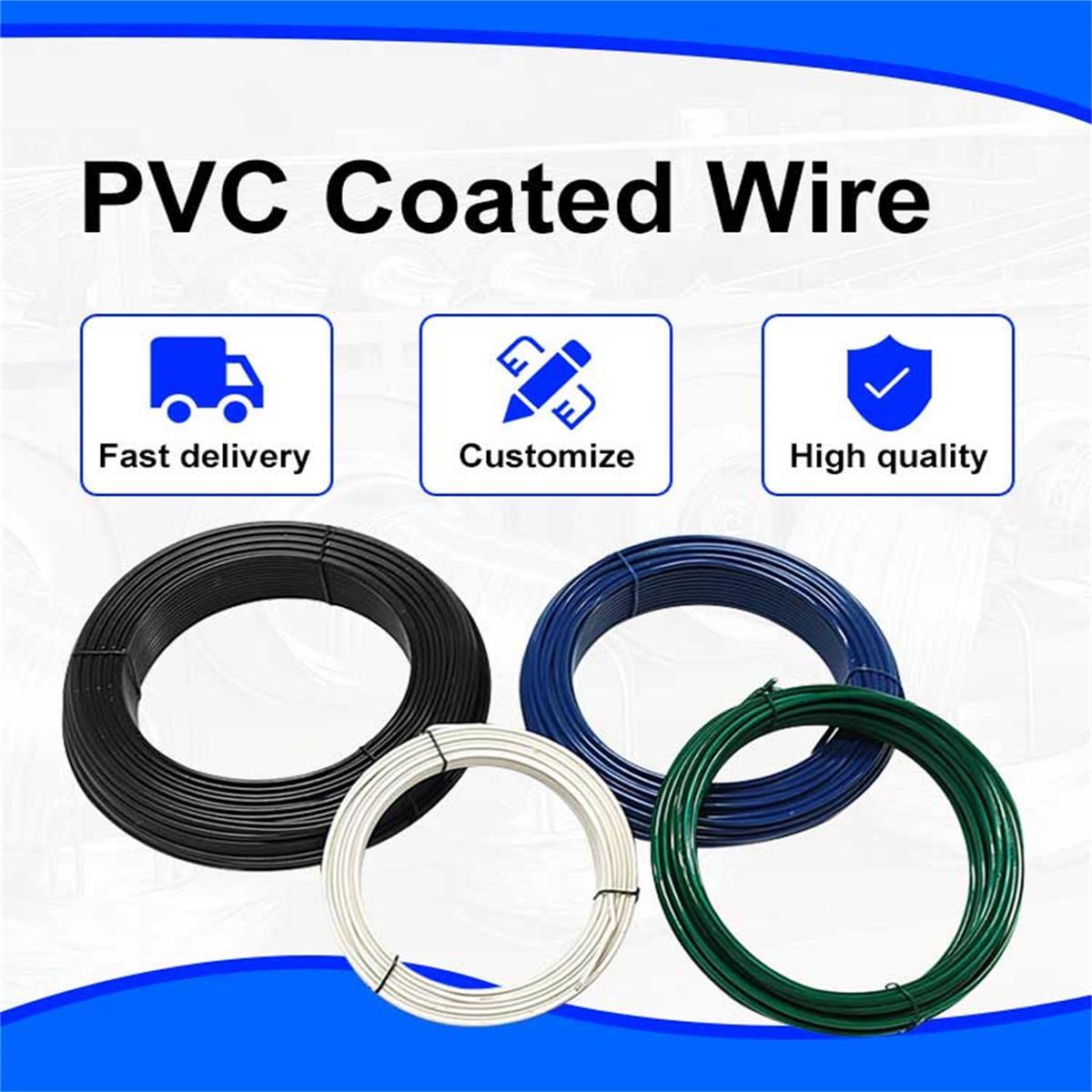 ---
White PVC Coated Iron Binding Wire Specification
PVC Coated Wire Specification:

Core Wire Diameter

Outer Diameter

Material
Low Carbon Steel Wire:Q195 Q235

1.0mm -3.5mm
BWG.11-20
SWG. 11-20

1.4mm -4.0mm
BWG. 8-17
SWG. 8-17

P.V.C. Coating Thickness : 0.4mm -0.6mm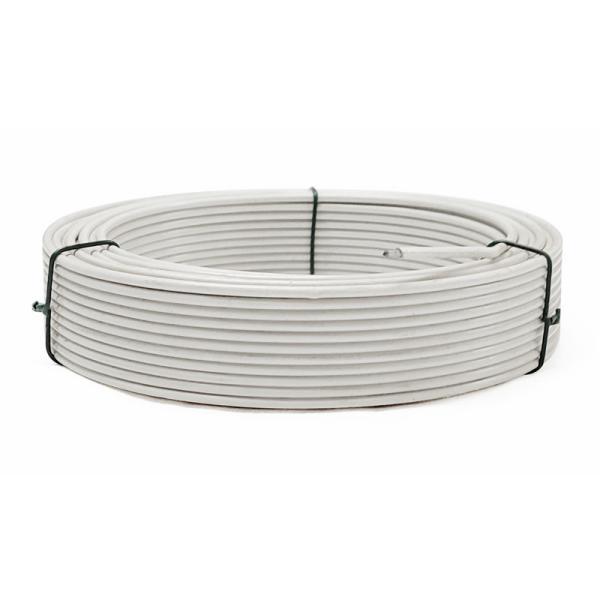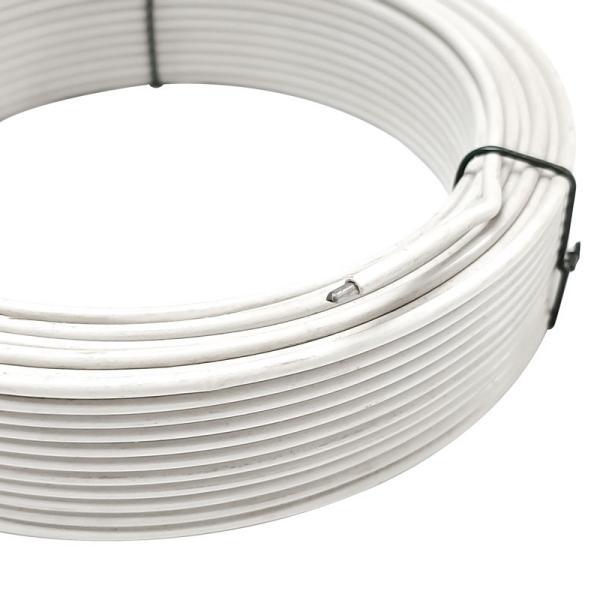 ---
Wire Size Gauge after coating
| | | | |
| --- | --- | --- | --- |
| Wire Gauge | SWG(mm) | BWG(mm) | Metric(mm) |
| 8 | 4.05 | 4.19 | 4.00 |
| 9 | 3.66 | 3.76 | 4.00 |
| 10 | 3.25 | 3.40 | 3.50 |
| 11 | 2.95 | 3.05 | 3.00 |
| 12 | 2.64 | 2.77 | 2.80 |
| 13 | 2.34 | 2.41 | 2.50 |
| 14 | 2.03 | 2.11 | 2.50 |
| 15 | 1.83 | 1.83 | 1.80 |
| 16 | 1.63 | 1.65 | 1.65 |
| 17 | 1.42 | 1.47 | 1.40 |
| 18 | 1.22 | 1.25 | 1.20 |
| 19 | 1.02 | 1.07 | 1.00 |
| 20 | 0.91 | 0.84 | 0.90 |
| 21 | 0.81 | 0.81 | 0.80 |
| 22 | 0.71 | 0.71 | 0.70 |
---
The Benifits of PVC Coated Mild Steel Baling Wire
1. Corrosion Resistance: Does PVC coated iron wire last longer?The PVC coating acts as a protective barrier, shielding the iron wire from corrosion caused by moisture, chemicals, and environmental factors, thereby prolonging its lifespan.
2. Durability and Strength: The inherent strength of iron wire combined with the PVC coating results in a durable material capable of withstanding mechanical stress and environmental challenges.
3. Versatility in Applications: From heavy-duty industrial use to artistic projects, PVC coated iron wire offers flexibility and adaptability, catering to a wide range of applications across diverse industries.
4. Ease of Handling: Despite its protective coating, PVC coated iron wire remains flexible and easy to work with, allowing for convenient shaping, bending, and installation.
5. Aesthetic Options: Available in various colors and thicknesses, PVC coated iron wire provides options for customization, enhancing its appeal in decorative and artistic projects.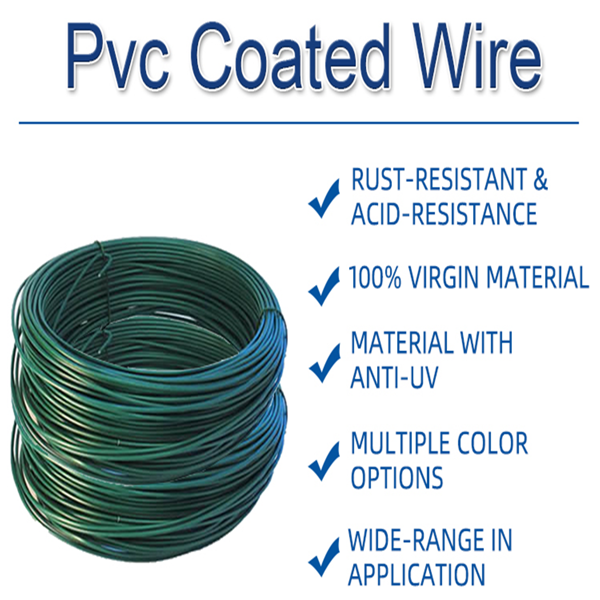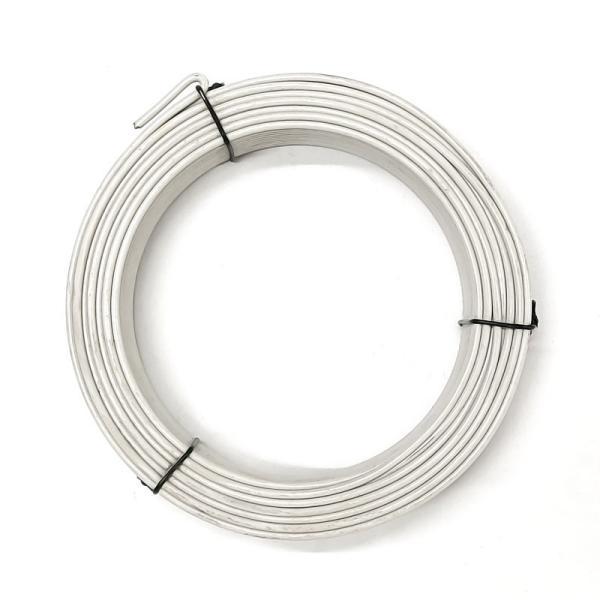 ---
PVC Coated Low Carbon Steel Wire Applications
PVC coated iron wire is often used for industrial binding or is made into clothes hangers, paper clips and other products. PVC coated iron wire has a wide range of uses.
*Construction: PVC coated iron wire finds extensive use in construction for tying, reinforcing concrete, wire mesh production, and other structural applications. Its corrosion resistance and strength make it a reliable choice in diverse construction settings.
*Fencing and Landscaping: This wire is a popular choice for fencing in residential, commercial, and agricultural properties. Its durability and resistance to weathering make it suitable for creating secure and long-lasting fences, as well as for supporting plants in landscaping.
*Crafts and DIY Projects: The versatility of PVC coated iron wire extends to creative projects, providing a sturdy and aesthetically pleasing material for sculptures, crafts, and DIY endeavors.
*Industrial and Manufacturing: In manufacturing processes, PVC coated iron wire serves various purposes, including packaging, product assembly, and as a material for creating custom wire-based products due to its strength and flexibility.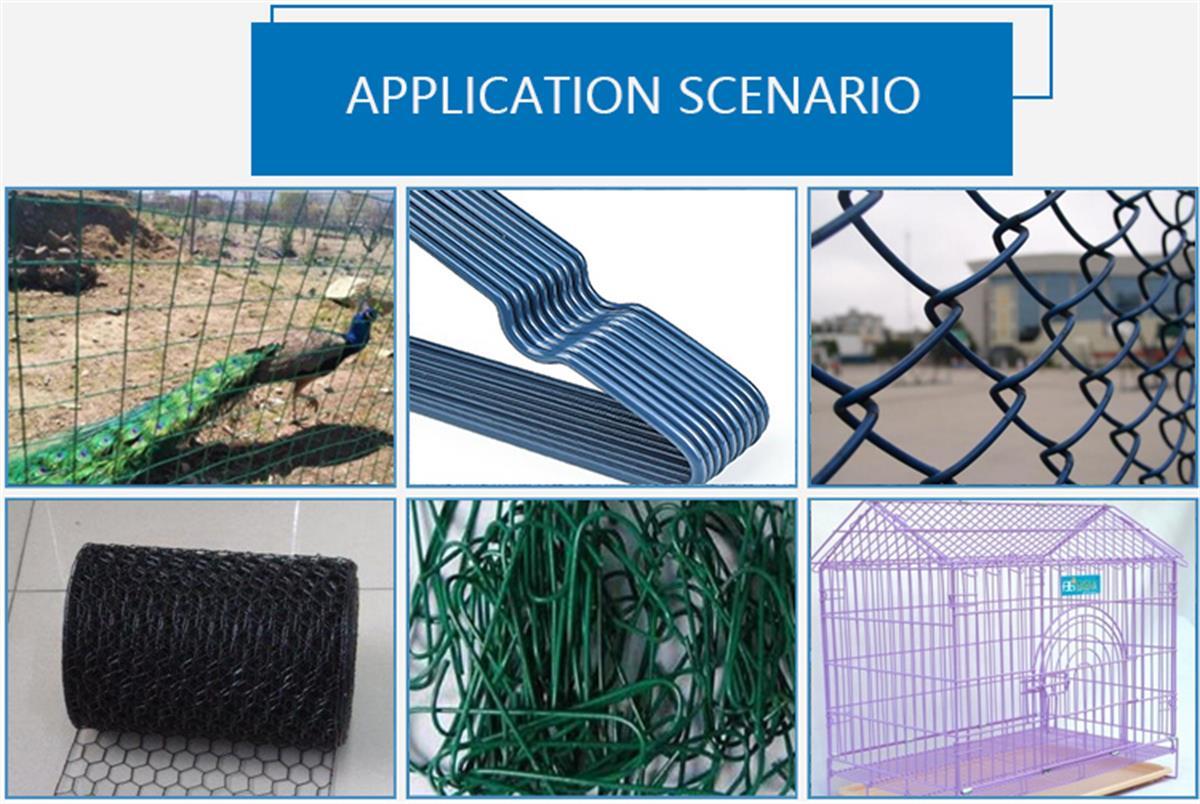 ---
PVC Coated Iron Wire Manufacturing Process
1. Wire Drawing:
The process begins with raw materials, often high-quality iron or steel rods, which undergo wire drawing. This stage involves pulling the metal rods through a series of dies to reduce their diameter and create long, continuous wire strands of the desired gauge or thickness.
2. Cleaning and Pre-treatment:
The wire is thoroughly cleaned to remove any impurities, grease, or residual substances. Pre-treatment might include processes like degreasing and pickling to ensure the wire's surface is clean and ready for coating.
3. PVC Coating:
The cleaned and pre-treated wire is then fed into a machine designed for PVC coating. In this stage, the wire passes through a chamber where it is coated with PVC. There are two common methods used for PVC coating:
Extrusion Coating: This method involves feeding the wire through an extruder where molten PVC is applied onto the wire's surface as it passes through the die. The wire is then cooled to solidify the PVC coating.
Dipping Coating: Alternatively, the wire may be passed through a tank containing molten PVC, allowing the coating to adhere to the wire's surface. Afterward, the wire is cooled to set the PVC coating.
4. Cooling and Setting:
Once the PVC coating is applied, the wire is cooled to set the PVC firmly onto the surface of the iron wire. This cooling process solidifies the PVC layer, ensuring it adheres firmly to the wire and forms a protective barrier.
5. Inspection and Quality Control:
The coated wire undergoes thorough inspection to check for uniformity, adhesion, and overall quality of the PVC coating. Any imperfections or irregularities are identified and rectified to meet quality standards.
6. Cutting and Packaging:
After passing inspection, the PVC coated wire is cut into specific lengths according to customer requirements. The wire is then spooled, coiled, or packaged in various ways based on market demands and shipping preferences.
---
Packing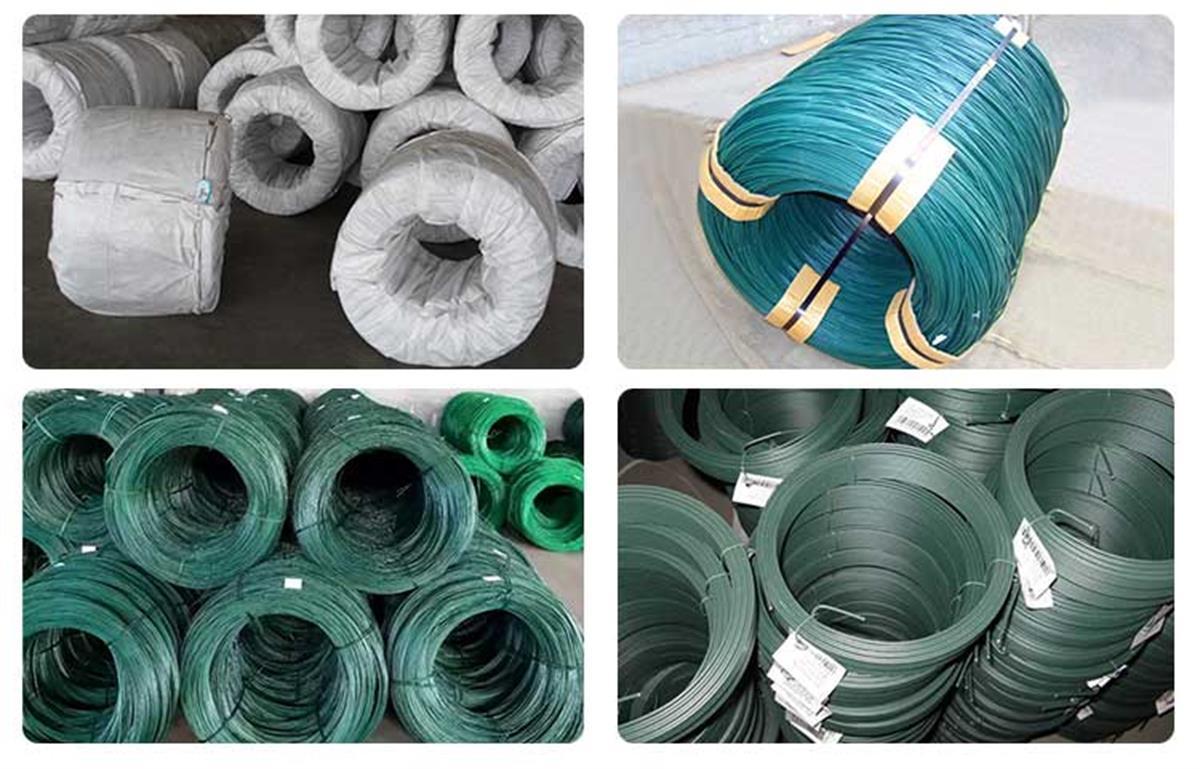 ---
China Good Wholesale PVC Coated Iron Binding Wire Exporters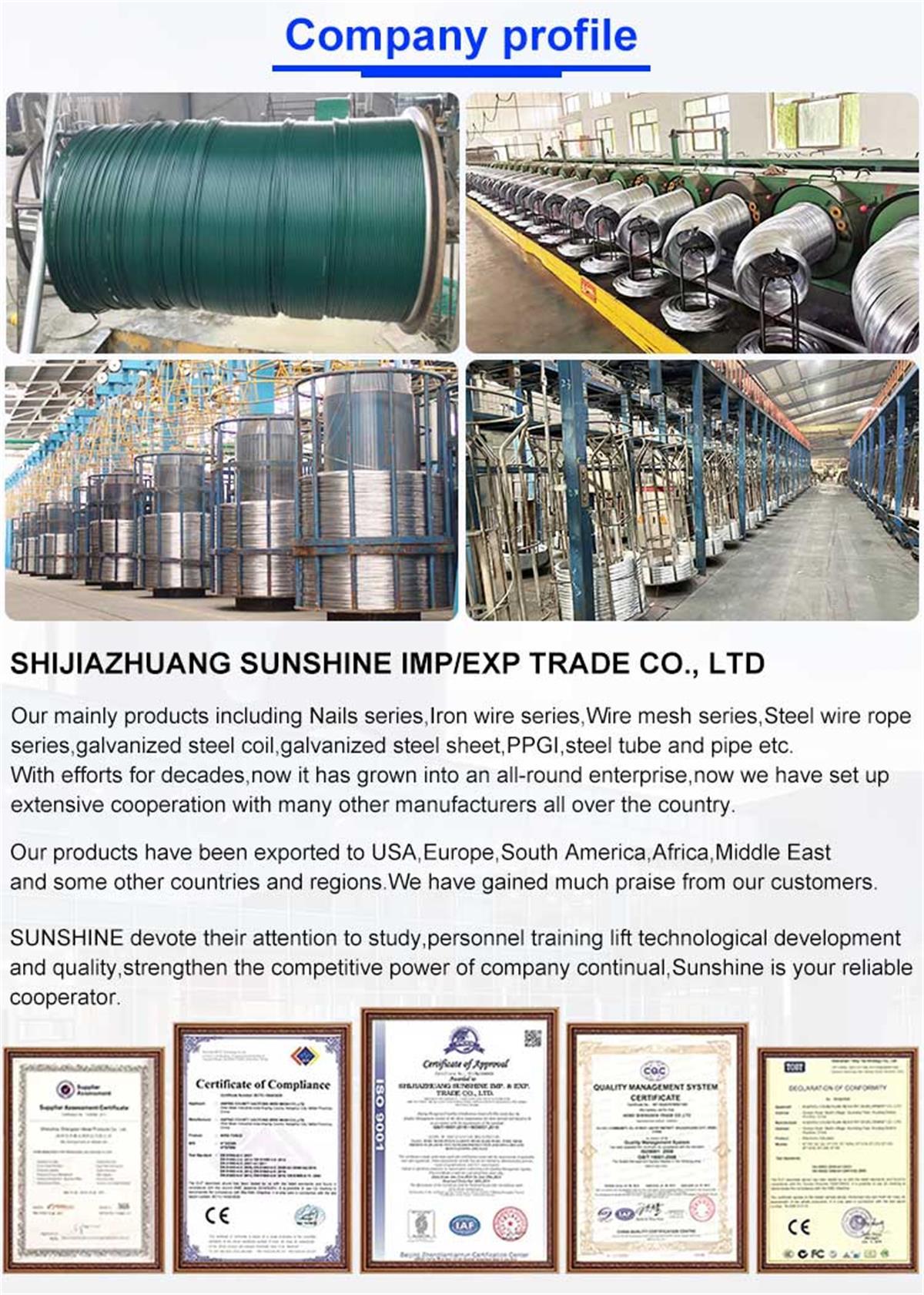 ---
FAQ
What do you want to know?
Q:What service can you provide?
A:Accepted Delivery Terms: FOB,CFR,CIF,EXW,DDP,DDU,Express Delivery;
Accepted Payment Currency:USD,EUR,CNY;
Accepted Payment Type: T/T,L/C,Credit Card,PayPal,Western Union,Cash;
Language Spoken:English,Chinese
Q:Are you a manufacturer?
A:Yes,we have specialized in this field for about 15 years experience.
Q:Could you provide sample?
A:Yes,we can provide sample with our catalogue.
(But the courier charge will on your side)
Q:Can we visit your factory?
A:Warmly welcome once we have your schedule we will pick you up .
Q:How do you make our business long-term and good relationship?
A:1.We keep good quality and competitive price to ensure our customers' benefit.
2. We respect every customer as our friend and we sincerely do business and make friends with them, no matter where they come from.