China High Quality BWG 11 12.5 12 14 16 18 20 22 Galvanized Iron Wire for sale
---
China galvanized iron wire has established itself as a reliable and sought-after export commodity. Its exceptional quality, durability, and versatility make it a preferred choice in various industries globally.SUNSHINE is one of the best suppliers in China.
China High Quality BWG 11 12.5 12 14 16 18 20 22 Galvanized Iron Wire for sale
---
China High Quality BWG 11 12.5 12 14 16 18 20 22 Galvanized Iron Wire for sale
---
Galvanized Iron Wire Introduction
China galvanized iron wire is known for its high quality and durability. It undergoes a meticulous galvanization process that involves coating the iron wire with a layer of zinc. This protective zinc coating enhances the wire's resistance to corrosion, ensuring a longer lifespan even in challenging environmental conditions.
---
Galvanzied Binding Iron Wire Properties
| | |
| --- | --- |
| Galvanized Tension Iron Binding Wire Brand | SUNSHINE |
| Model Number | galvanized iron wire |
| Material | low carbon steel Q195 Q235 |
| Surface Treatment | Hot-dipped Galvanized/Electro-Galvanized |
| Processing Service | Welding, Bending, Cutting |
| Wire Gauge | BWG8-BWG24 |
| Surface | Galvanised Zinc |
| Coil weight | 5kg --- 500 Kg |
Galvanized Mild Steel Wire Size Diameter

---
Galvanzied Rebar Tie Iron Wire Manufacturing Process
Electro galvanized wire, also called cold galvanized wire, is made of high quality carbon steel wire. The processing of this wire is to use electrolytic equipment for galvanizing. In general, the zinc coating is not very thick, but the electro galvanized wire has enough anti-corrosion and anti-oxidation. In addition, the zinc coating surface is very average, smooth and bright. Electro galvanized wire zinc coated commonly is 8–50 g/m2. This wire is mainly used to make nails and wire ropes, wire mesh and fencing, binding of flowers and wire mesh weaving.
Hot dip galvanized wire belongs to the primary wire products of galvanization. The common sizes of hot dipped galvanized are from 8 gauge to 16 gauge, we also accept smaller or bigger diameter for customers' choices. Hot dipped galvanized wire with firm zinc coating provides strong corrosion resistance and high tensile strength. This kind of wire is widely used for making handicrafts, woven wire mesh, forming fencing mesh, packing products and other daily uses.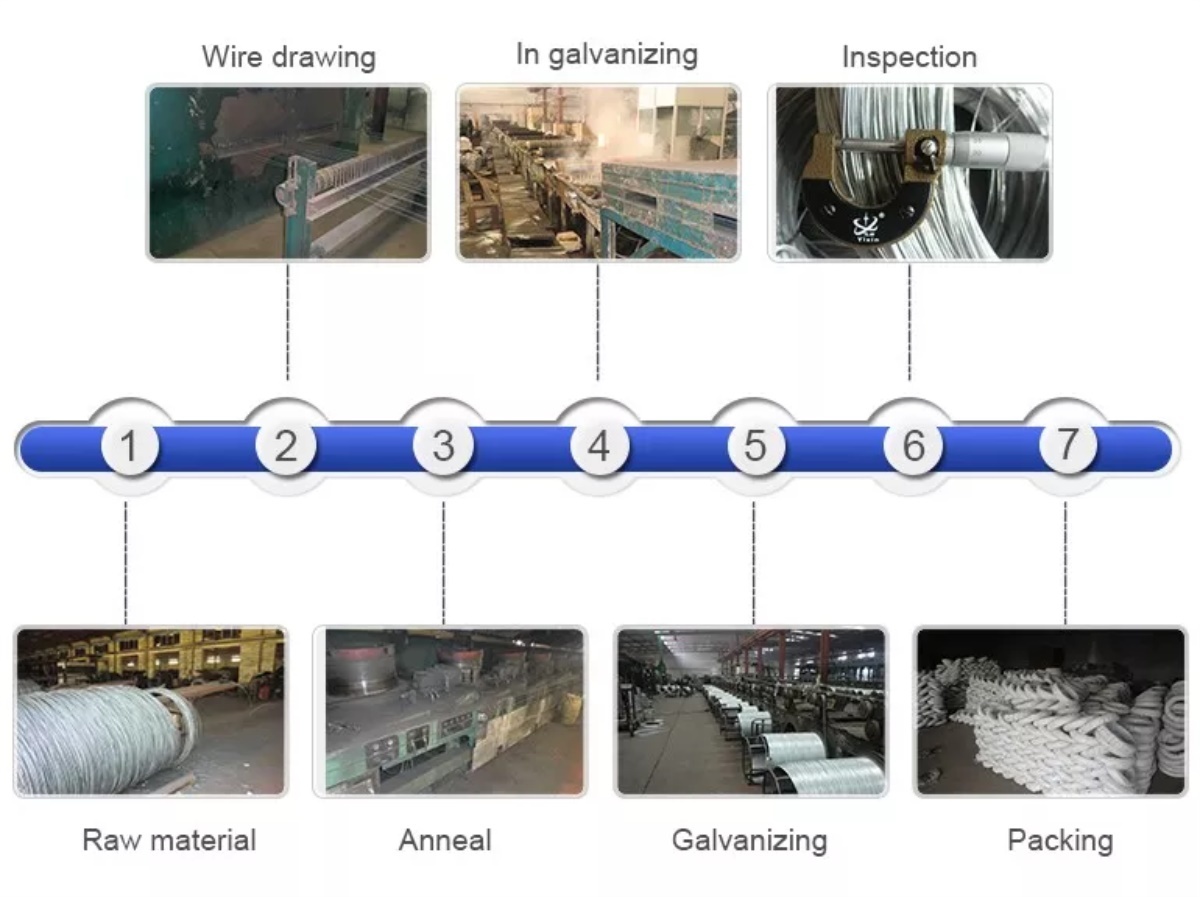 ---
Galvanized Tie Iron Wire Feature
-Corrosion Resistance: The galvanized coating on the iron wire provides excellent protection against corrosion. This makes galvanized iron wire highly durable and suitable for outdoor applications, even in harsh weather conditions.
-Longevity: The galvanized coating extends the lifespan of the wire by preventing rust and corrosion. This ensures that galvanized iron wire maintains its strength and integrity over an extended period, reducing the need for frequent replacements.
-Strength and Durability: Galvanized iron wire is known for its high tensile strength, making it suitable for applications that require robust and reliable wire. It can withstand heavy loads and stresses, making it ideal for construction, agriculture, and industrial use.
-Versatility: Galvanized iron wire is a versatile product that finds applications in various industries. It is commonly used in fencing, construction reinforcement, packaging, and agricultural applications such as trellising and animal enclosures.
-Cost-Effective: Galvanized iron wire offers a cost-effective solution due to its durability and longevity. Its initial investment pays off in the long run as it requires minimal maintenance and replacement, reducing overall costs.
-Easy Handling and Installation: Galvanized iron wire is lightweight and easy to handle, making it convenient for installation purposes. It can be easily cut, bent, and shaped to suit specific requirements, providing flexibility in various applications.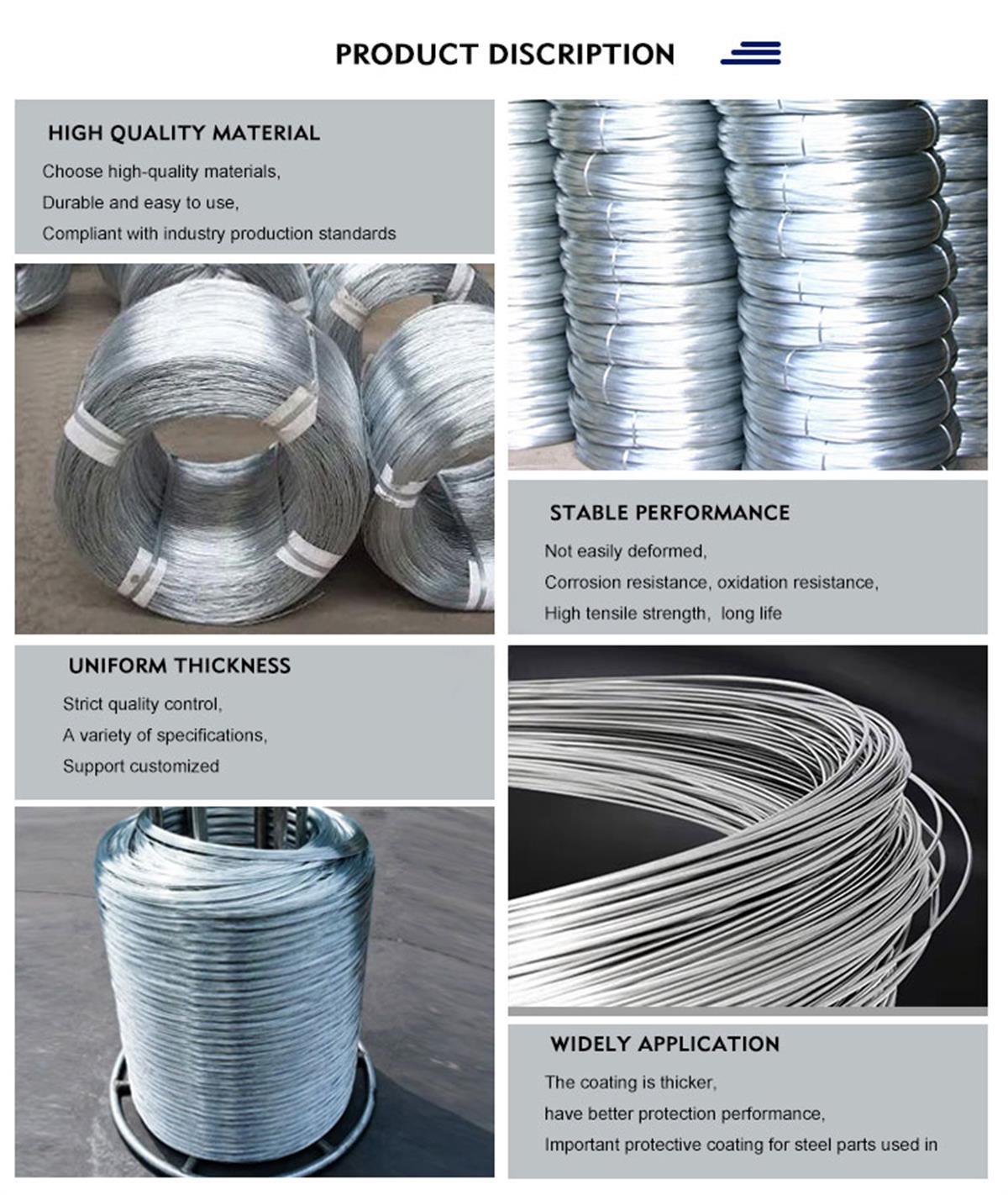 ---
Galvanized Tension Iron Binding Wire Applications
-Fencing: Galvanized wire is commonly used in fencing applications as it provides a strong and durable barrier that can withstand harsh weather conditions. It is often used in chain link fences, barbed wire fences, and livestock fences.

-Construction: Galvanized wire is used in various construction applications such as reinforcing concrete structures, tying rebar, and suspending ceilings.

-Agriculture: Galvanized wire is used in agriculture for applications such as trellising crops,be used as galvanized vineyard wire,and securing livestock enclosures.

-Crafting: Galvanized wire is popular among crafters due to its strength and malleability. It is often used in jewelry making, wire sculpture, and other decorative projects.

-Packaging: Galvanized wire is used in packaging applications such as bundling and securing products during transportation.

-Electrical: Galvanized wire is used in electrical applications such as grounding, electrical wiring, and cable support.

-Automotive: Galvanized wire is used in automotive applications such as suspension systems, exhaust hangers, and brake cables.

-Marine: Galvanized wire is used in marine applications such as boat rigging, anchor chains, and dock lines.
---
Packing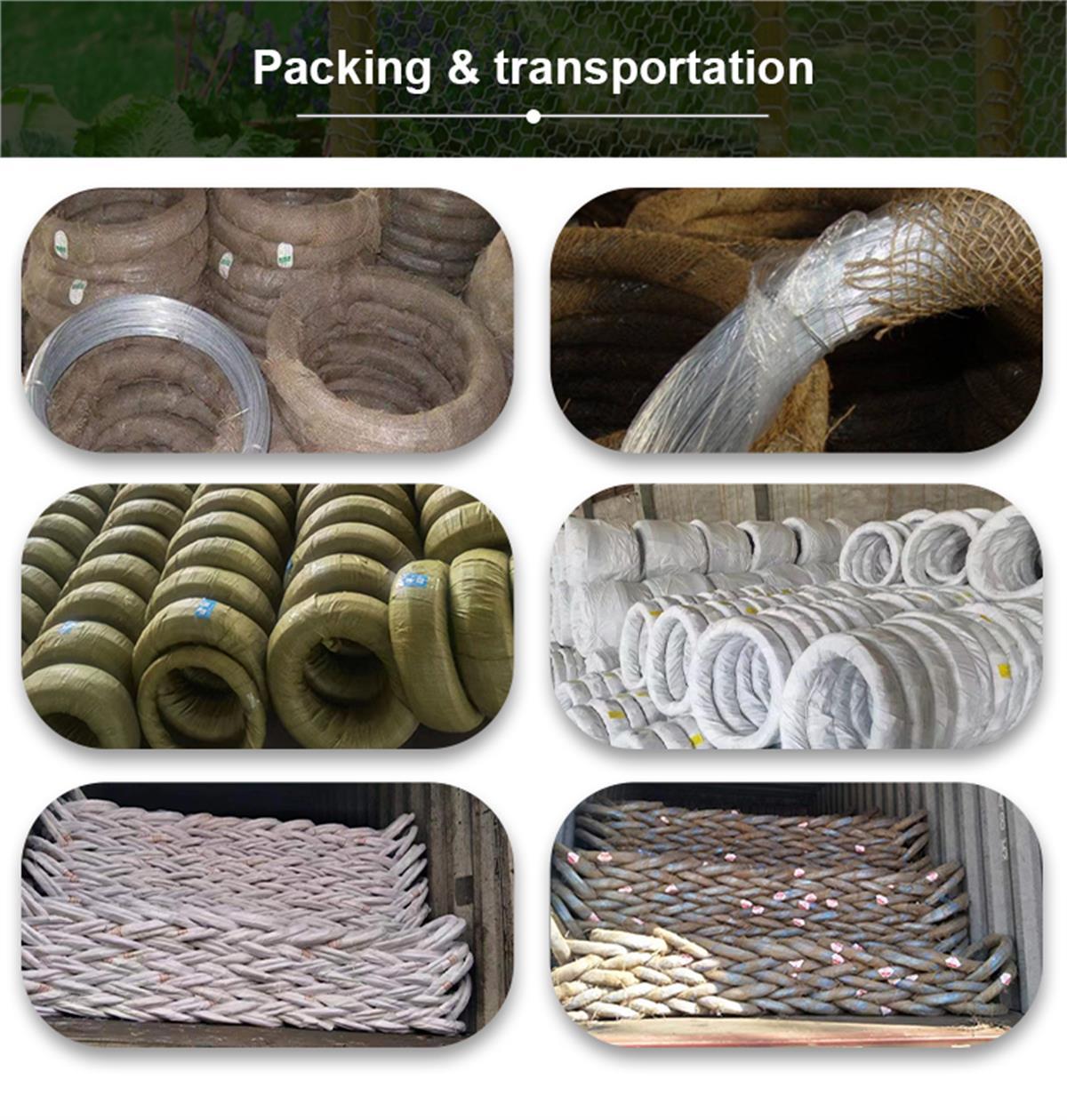 ---
China Galvanzied Iron Wire for sale
SUNSHINE has own professional team and equipment to inspect product items such as material standard, wire size, weight,tensile strength, and other customer demand. Meanwhile, we could guaranteed the products quality as you expect.
Whether you have specific requirements or need assistance in selecting the right products, our dedicated team is here to help. Contact us today and let SUNSHINE be your trusted partner for all your hardware and construction material needs.
---
FAQ
1. who are we?
We are based in Hebei, China, start from 2010,sell to South America(50.00%),Mid East(20.00%),Africa(15.00%),North America(10.00%),Eastern Europe(5.00%). There are total about 11-50 people in our office.
2.how can we guarantee quality?
Always a pre-production sample before mass production;
Always final Inspection before shipment;
3.what can you buy from us?
Nails,Steel Wire,Wire Pipe,Wire Mesh,Malleable Iron Fitting
4. why should you buy from us not from other suppliers?
The products are mainly exported to Africa, European and American markets and South America; the company has its own stable cooperative factory, the product quality is first-class in the country, and has a good reputation in the international market.
5. what services can we provide?
Accepted Delivery Terms: FOB,CFR,CIF;
Accepted Payment Currency:USD,EUR,CNY;
9 10 16 17 18 24 Gauge 1.02mm 3mm Diameter Steel GI Wire