Wholesale Small Coil Big Coil GI Iron Wire for South Africa
---
GI iron wire is made up of two main components: wire and coating. The wire is typically made up of steel or low-alloy steel, while the coating is composed of pure zinc. When these two components are combined, they form a strong and durable product that can withstand harsh conditions such as exposure to moisture and extreme temperatures.Galvanized iron wire is a type of wire that has been coated with a layer of zinc to protect it from rust and other forms of corrosion. It is commonly used in a variety of applications, including electrical wiring, construction, and agriculture.
Wholesale Small Coil Big Coil GI Iron Wire for South Africa
---
Wholesale Small Coil Big Coil GI Iron Wire for South Africa
---
GI Iron Wire Introduction
Galvanized iron wire is a type of wire that has been coated with a layer of zinc to enhance its durability and resistance to corrosion. This process, known as galvanization, involves immersing the iron wire in a bath of molten zinc, which forms a metallurgical bond with the iron, creating a protective barrier.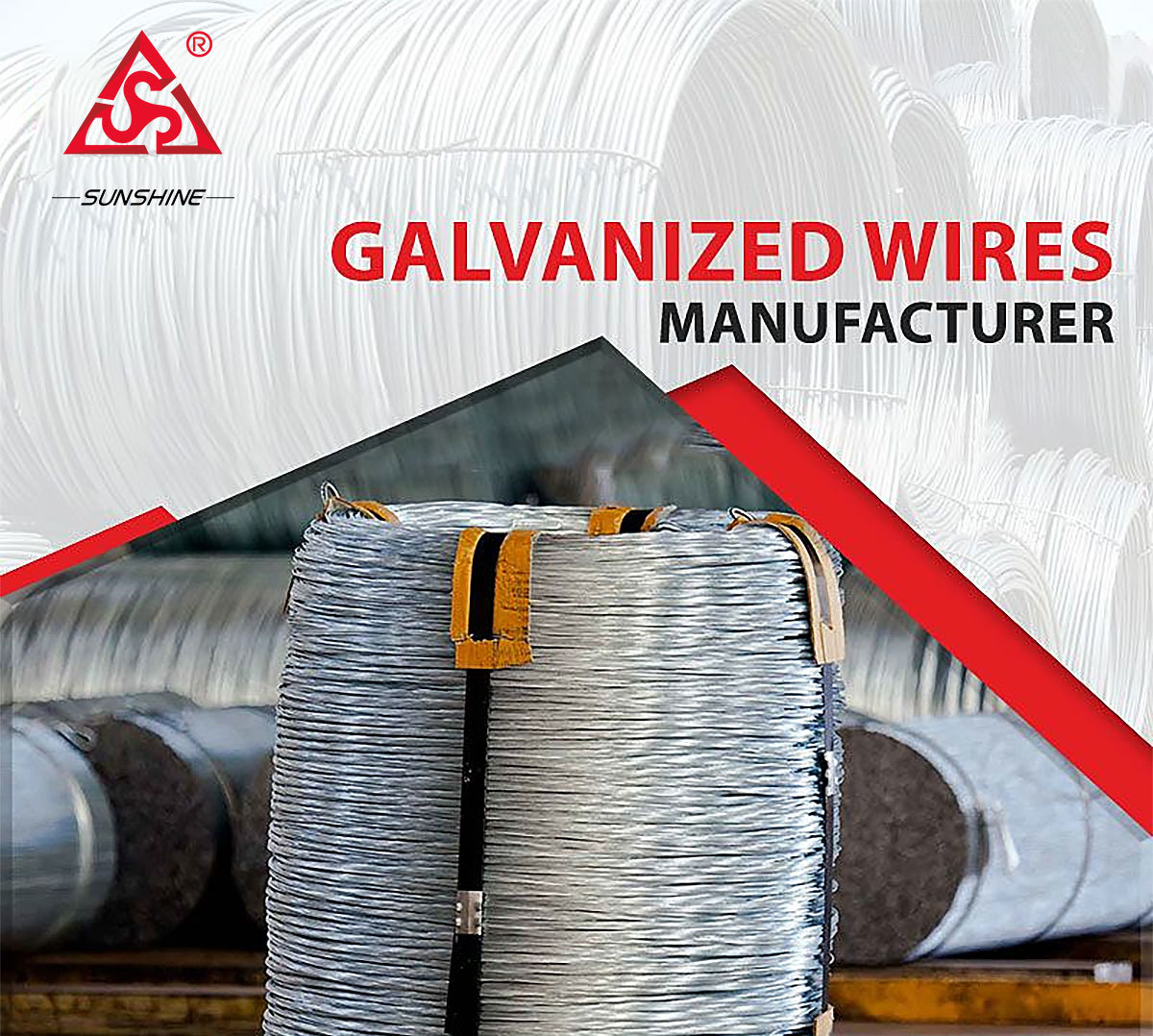 ---
GI Low Carbon Steel Binding Wire Details
| | |
| --- | --- |
| GI Mild Steel Wire Brand | SUNSHINE |
| Model Number | galvanized low carbon steel wire |
| Material | high quality iron wire Q195 Q245 |
| Surface Treatment | Hot-dipped Galvanized/Electro-Galvanized |
| Processing Service | Welding, Bending, Cutting |
| Wire Diameter | 0.56mm-5mm |
| Surface | Galvanised Zinc |
| Coil weight | 5kg --- 500 Kg |
---
GI Low Carbon Steel Binding Wire Size Gauge
| | | | |
| --- | --- | --- | --- |
| Wire Gauge | SWG(mm) | BWG(mm) | Metric(mm) |
| 8 | 4.05 | 4.19 | 4.00 |
| 9 | 3.66 | 3.76 | 4.00 |
| 10 | 3.25 | 3.40 | 3.50 |
| 11 | 2.95 | 3.05 | 3.00 |
| 12 | 2.64 | 2.77 | 2.80 |
| 13 | 2.34 | 2.41 | 2.50 |
| 14 | 2.03 | 2.11 | 2.50 |
| 15 | 1.83 | 1.83 | 1.80 |
| 16 | 1.63 | 1.65 | 1.65 |
| 17 | 1.42 | 1.47 | 1.40 |
| 18 | 1.22 | 1.25 | 1.20 |
| 19 | 1.02 | 1.07 | 1.00 |
| 20 | 0.91 | 0.84 | 0.90 |
| 21 | 0.81 | 0.81 | 0.80 |
| 22 | 0.71 | 0.71 | 0.70 |
---
GI Wire Weight Per Meter
The weight of galvanized iron (GI) wire per meter can vary depending on the specific gauge or thickness of the wire. Generally, the weight per meter of GI wire falls within the range of 0.02 kilograms to 0.12 kilograms.
Here are some approximate weight ranges for common gauges of galvanized iron wire:
18 gauge GI wire weight: Approximately 0.048 kilograms per meter
16 gauge GI wire weight: Approximately 0.077 kilograms per meter
14 gauge GI wire weight: Approximately 0.121 kilograms per meter
It's important to note that these weight ranges are approximate values and can vary slightly depending on manufacturing standards, tolerances, and the specific composition of the wire.
---
GI Low Carbon Steel Wire Manufacturing Process
-Wire Drawing: The process begins with drawing low carbon steel wire through a series of dies to reduce its diameter and achieve the desired gauge or thickness. This process helps improve the wire's tensile strength and surface finish.
-Wire Cleaning: The drawn wire is then cleaned to remove any impurities, such as dirt, oil, or debris. This step ensures a clean surface for proper adhesion of the coating.
-Wire Annealing: In some cases, the wire may undergo an annealing process to enhance its ductility and make it more easily bendable or formable. This involves heating the wire and slowly cooling it down to relieve internal stresses.
-Galvanizing Bath Preparation: A bath of molten zinc is prepared, usually consisting of a mixture of zinc and other additives. This bath is heated to a specific temperature, typically around 460-500°C (860-930°F), to ensure proper zinc bonding with the wire.
-Wire Immersion: The cleaned and prepared wire is then mechanically or manually immersed into the molten zinc bath. The wire is left in the bath for a specific duration, allowing the zinc to coat the entire surface uniformly.
-Formation of Zinc Coating: As the wire is lifted out of the zinc bath, the excess zinc drips off, leaving a coating on the wire's surface. The thickness of the coating can be controlled by adjusting factors like the immersion time, wire speed, and temperature.
-Cooling and Quenching: After the wire is coated, it goes through a cooling process to solidify the zinc coating. This can be accomplished using air or water quenching methods, depending on the desired properties of the wire.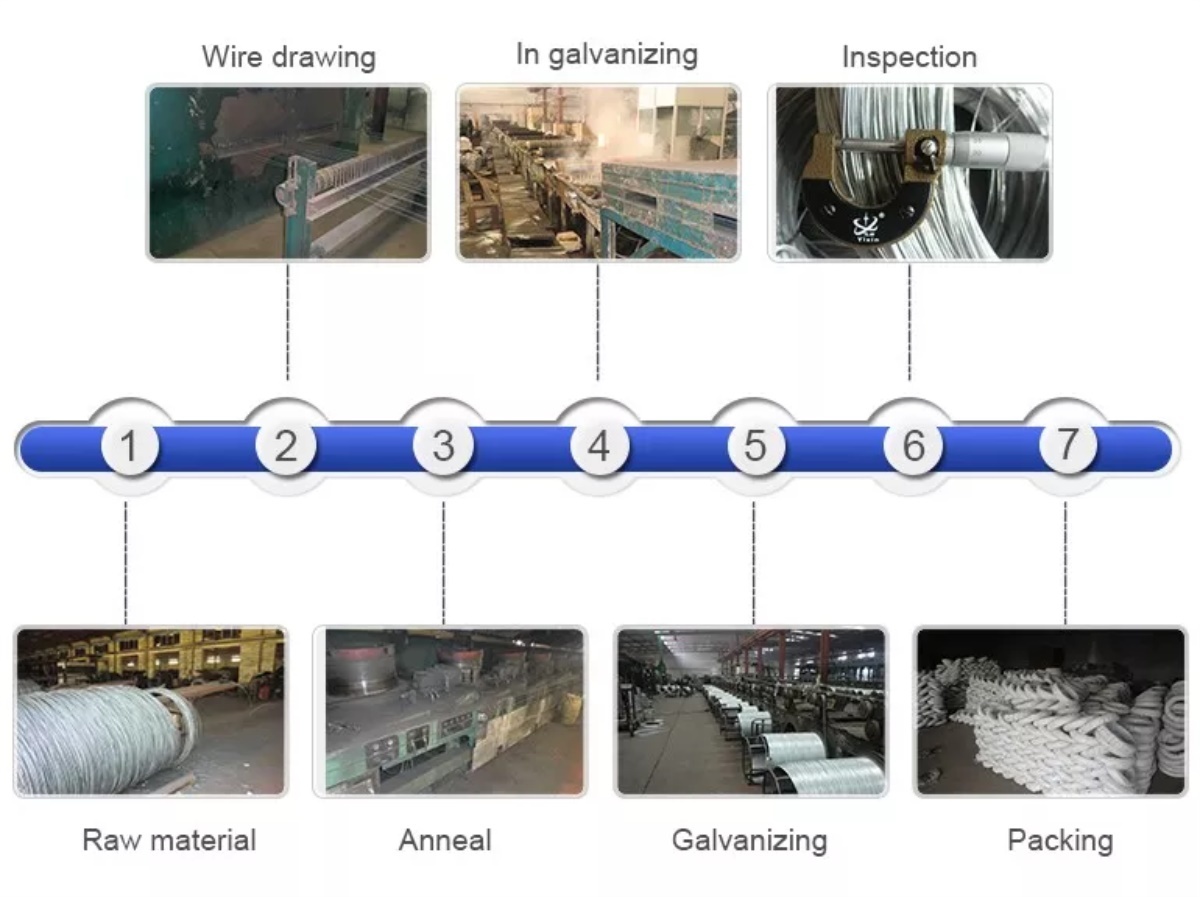 ---
Properties of GI Iron Wire
One of the key properties of galvanized iron wire is its resistance to corrosion. The zinc coating provides a barrier against oxygen and water, which helps to prevent the wire from rusting. This makes it ideal for use in environments where there is a high risk of corrosion, such as in marine or agricultural settings. Additionally, because the wire is made up of low-alloy steel, it is also resistant to wear and tear, making it suitable for use in applications where it may be exposed to heavy loads or abrasive materials.
---
Application of GI Iron Wire
GI iron wire, also known as wire iron or zinc coated steel wire, has found a wide range of applications in various industries. It is commonly used in construction, agriculture, and manufacturing for various purposes.
In construction, galvanized iron wire is used to reinforce concrete structures such as walls, foundations, and bridges. It helps to prevent cracking and corrosion of the material during exposure to the elements. Galvanized iron wire is also used in roofing and gutter systems to provide additional strength and durability.
In agriculture, galvanized iron wire is often used for fencing, irrigation lines, and garden stakes. Its rust-resistant properties make it ideal for outdoor use, while its flexibility allows it to be bent into different shapes and sizes. Additionally, it can be easily painted or stained to match the color of the surrounding materials.
In manufacturing, galvanized iron wire is used in a variety of applications, including wire mesh, braided wires, and electrical wiring. Its corrosion resistance ensures that it lasts longer than other types of wire, reducing the need for frequent replacement.
Overall, galvanized iron wire plays a crucial role in many industries by providing strength, durability, and protection against corrosion. Its versatility and low cost of production make it an ideal material for various applications.
---
Packing
0.5kg to 5kg per small coil,25kg to 500kg per big coil.
such as:GI Low Carbon Steel Wire 50kg inner with plastic film,outer with woven cloth/hessain cloth together.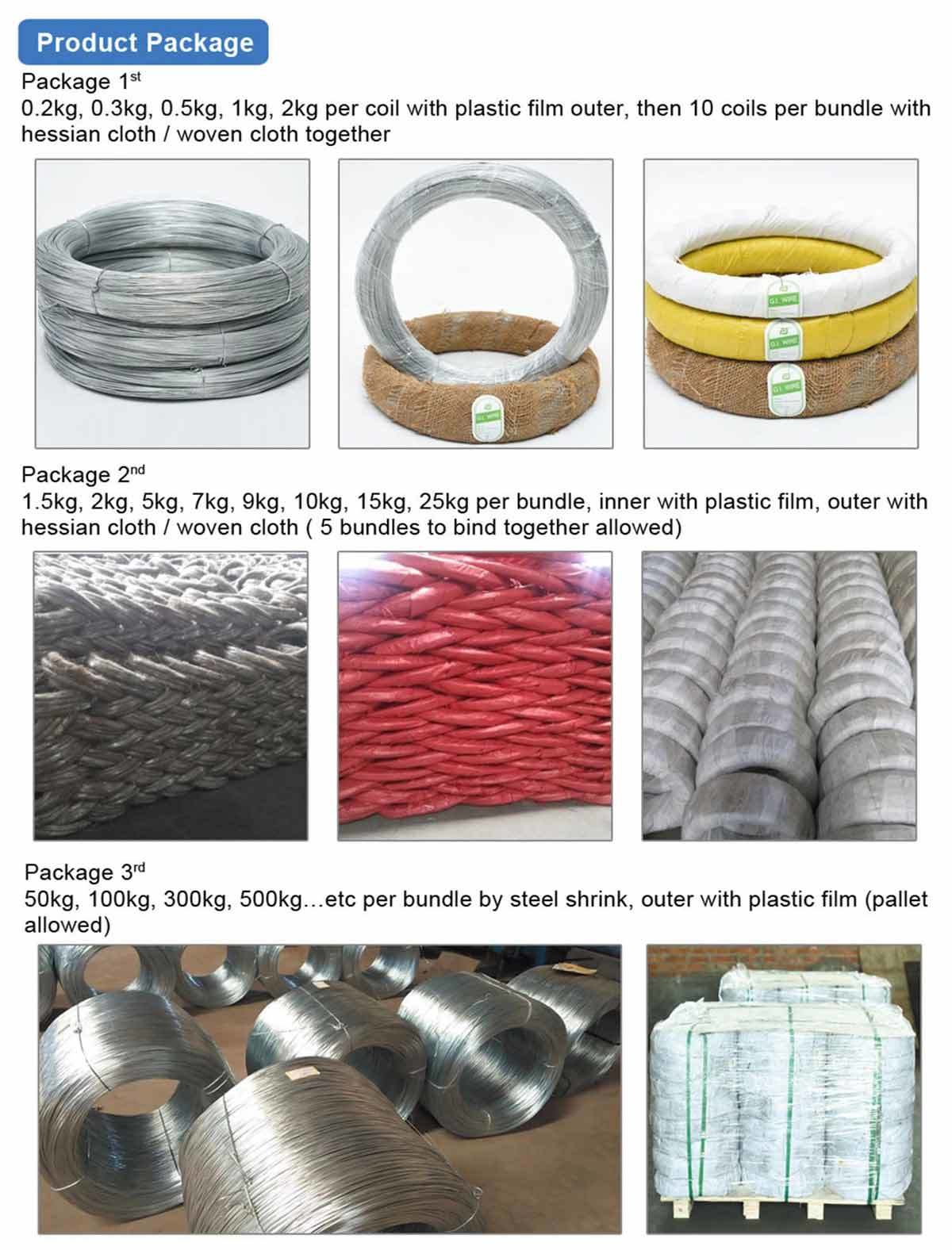 ---
China High Quality GI Iron Wire Manufacturers
SUNSHINE has own professional team and equipment to inspect product items such as material standard, wire size, weight,tensile strength, and other customer demand. Meanwhile, we could guaranteed the products quality as you expect.
Whether you have specific requirements or need assistance in selecting the right products, our dedicated team is here to help. Contact us today and let SUNSHINE be your trusted partner for all your hardware and construction material needs.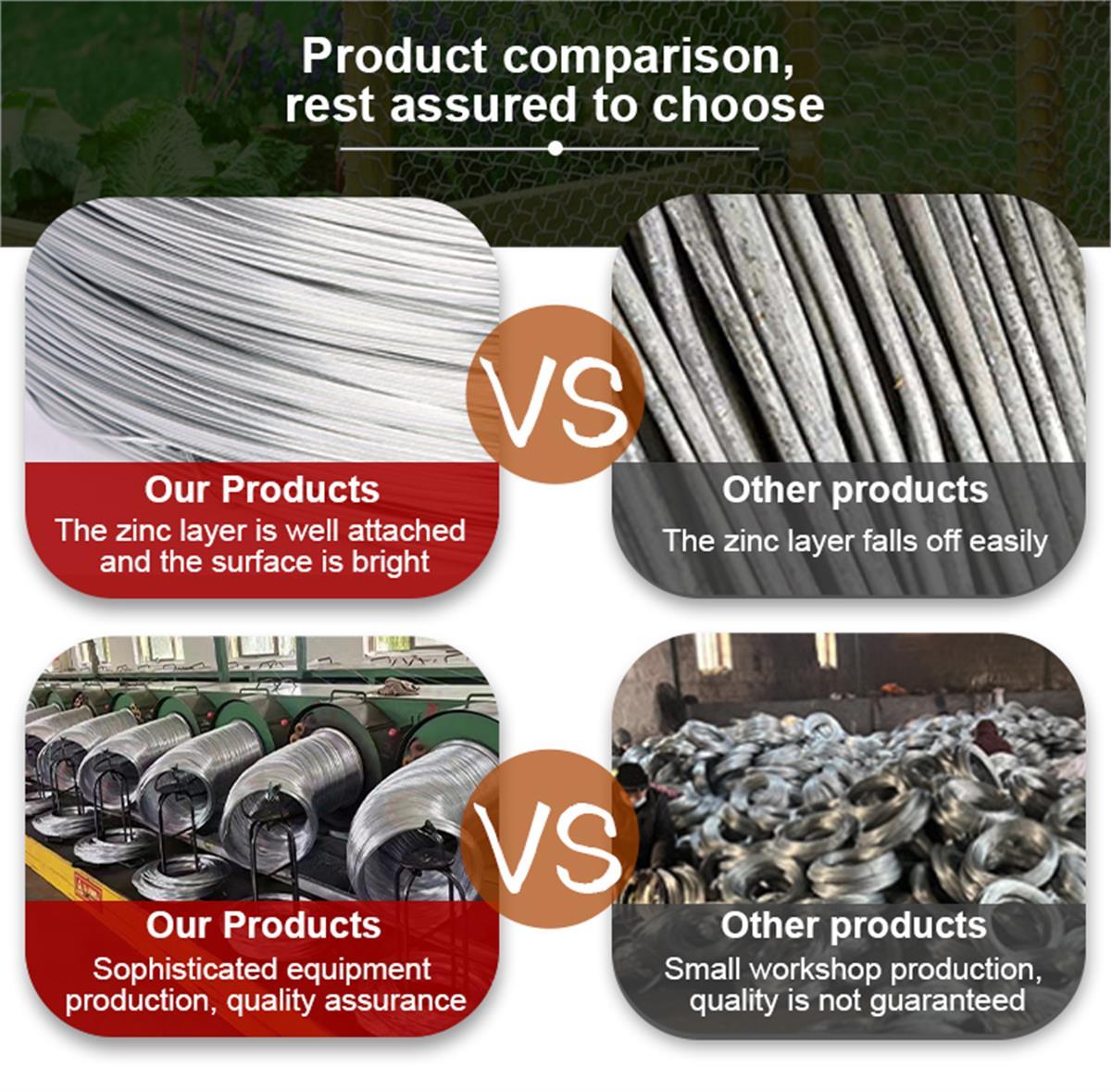 ---
FAQ
What do you want to know?
Q:What service can you provide?
A:Accepted Delivery Terms: FOB,CFR,CIF,EXW,DDP,DDU,Express Delivery;
Accepted Payment Currency:USD,EUR,CNY;
Accepted Payment Type: T/T,L/C,Credit Card,PayPal,Western Union,Cash;
Language Spoken:English,Chinese
Q:Are you a manufacturer?
A:Yes,we have specialized in this field for about 15 years experience.
Q:Could you provide sample?
A:Yes,we can provide sample with our catalogue.
(But the courier charge will on your side)
Q:Can we visit your factory?
A:Warmly welcome once we have your schedule we will pick you up .
Q:How do you make our business long-term and good relationship?
A:1.We keep good quality and competitive price to ensure our customers' benefit.
2. We respect every customer as our friend and we sincerely do business and make friends with them, no matter where they come from.
China Wholesale 6 8 SWG GI Iron Wire Manufacturers