Wholesale 10 12 Gauge PVC Coated Tension GI Baling Wire
---
PVC coated galvanized wire is a specialized variant of wire that undergoes a dual treatment process. It begins with galvanization—a process where the base wire, typically made of steel or iron, is coated with a layer of zinc to inhibit rust and corrosion. Following this, the wire is further coated with a layer of PVC (polyvinyl chloride) to enhance its protective properties and longevity.
Wholesale 10 12 Gauge PVC Coated Tension GI Baling Wire
---
10 12 Gauge Wholesale PVC Coated Tension GI Baling Wire
---
PVC Coated Tension GI Baling Wire Itroduction
PVC Coated Wire is manufactured with quality iron wire. Common colors available for PVC coated wire are green and black. Other colors also available on request.
PVC coated galvanized wire is essentially galvanized wire—a steel or iron wire coated with a layer of zinc for corrosion resistance—that undergoes an additional layering of PVC. Galvanization involves immersing the wire in molten zinc, creating a protective zinc coating that prevents rust and corrosion. The subsequent PVC coating further fortifies the wire against environmental elements, enhancing its longevity and resilience.
The primary benefit of PVC coated galvanized wire lies in its dual-layer protection. The galvanized layer provides a strong base by preventing rust and corrosion that can result from exposure to moisture, chemicals, and harsh weather conditions. Meanwhile, the PVC coating acts as an additional barrier, shielding the wire from abrasion, impact, and further enhancing its resistance to corrosion.
PVC coated wire has many colors, of which black, green, white, blue, red are common colors.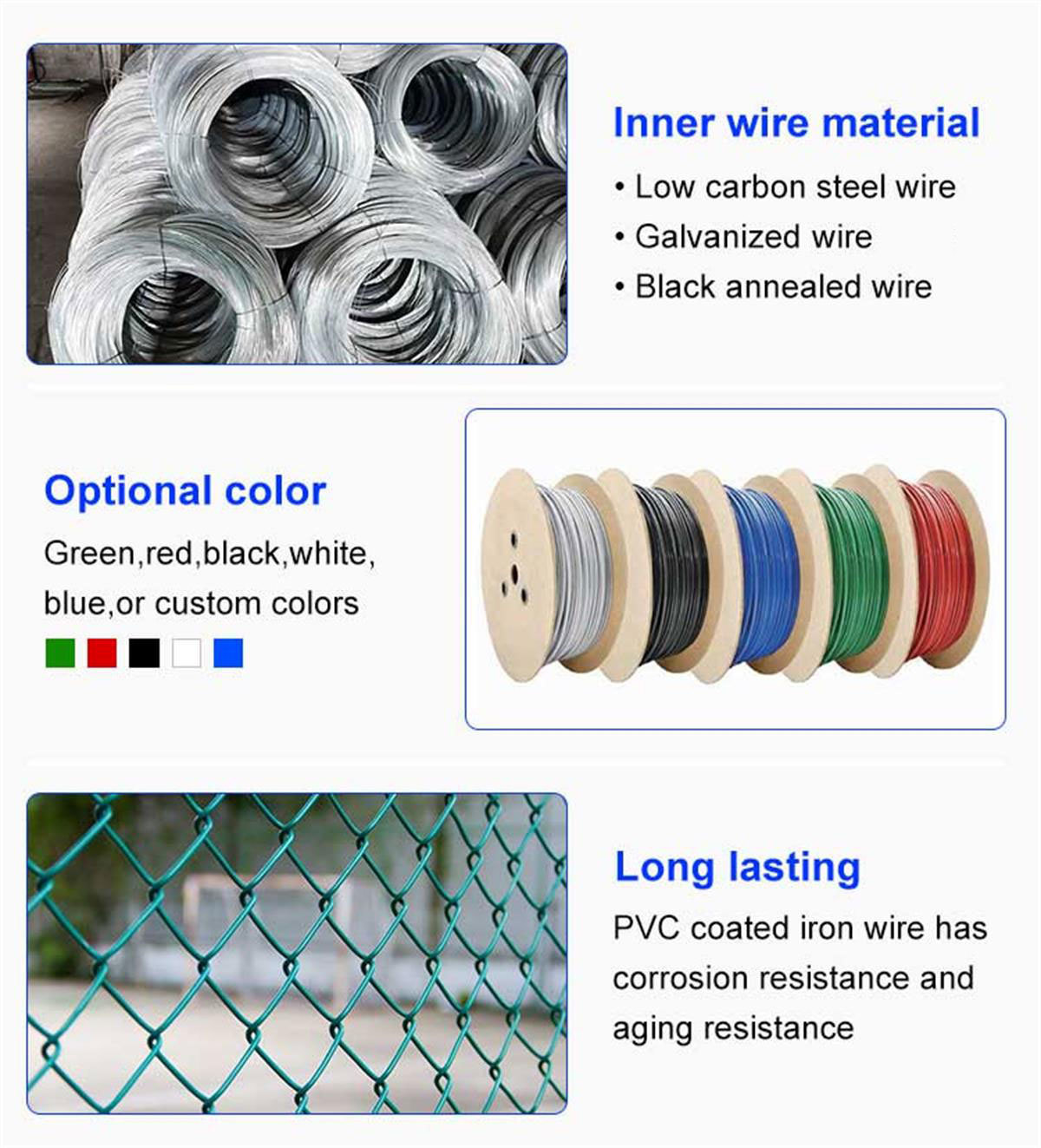 ---
PVC Coated Galvanized Wire Specification
PVC Coated Wire Specification:

Core Wire Diameter

Outer Diameter

Material:
Galvanized wire
Surface:
Plastic coating/PVC coating
Tensile Strength:
350 N/mm2-900 N/mm2.

1.0mm -3.5mm
BWG.11-20
SWG. 11-20

1.4mm -4.0mm
BWG. 8-17
SWG. 8-17

P.V.C. Coating Thickness : 0.4mm -0.6mm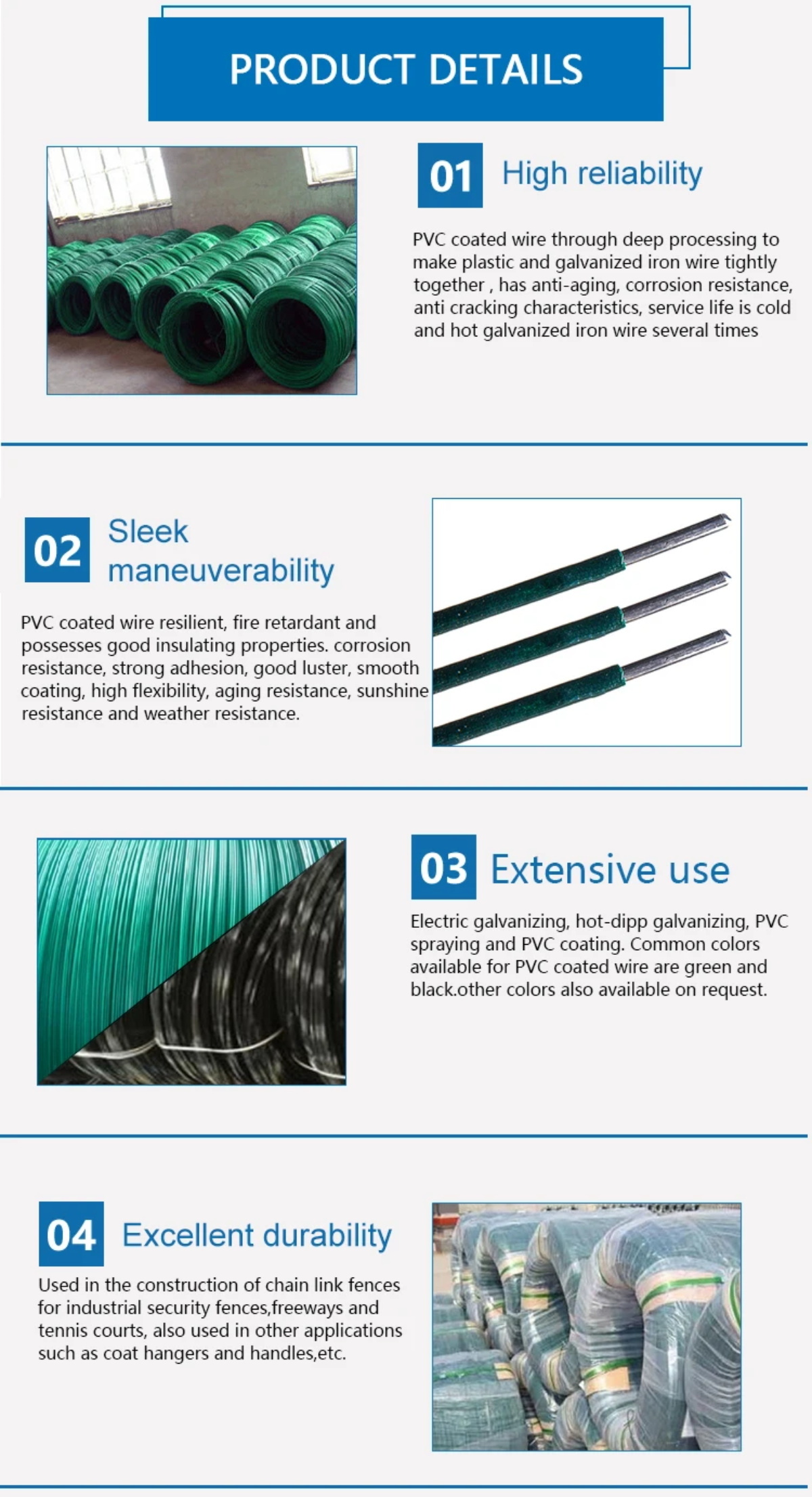 ---
Wire Size Gauge after coating
| | | | |
| --- | --- | --- | --- |
| Wire Gauge | SWG(mm) | BWG(mm) | Metric(mm) |
| 8 | 4.05 | 4.19 | 4.00 |
| 9 | 3.66 | 3.76 | 4.00 |
| 10 | 3.25 | 3.40 | 3.50 |
| 11 | 2.95 | 3.05 | 3.00 |
| 12 | 2.64 | 2.77 | 2.80 |
| 13 | 2.34 | 2.41 | 2.50 |
| 14 | 2.03 | 2.11 | 2.50 |
| 15 | 1.83 | 1.83 | 1.80 |
| 16 | 1.63 | 1.65 | 1.65 |
| 17 | 1.42 | 1.47 | 1.40 |
| 18 | 1.22 | 1.25 | 1.20 |
| 19 | 1.02 | 1.07 | 1.00 |
| 20 | 0.91 | 0.84 | 0.90 |
| 21 | 0.81 | 0.81 | 0.80 |
| 22 | 0.71 | 0.71 | 0.70 |
---
The Benifits of PVC Coated Galvanized Tie Wire
1. Exceptional Corrosion Resistance: The dual protection of galvanization and PVC coating offers unparalleled resistance to corrosion, ensuring longevity in harsh environments.
2. Extended Lifespan: The combined strength of galvanization and the protective PVC layer significantly prolongs the wire's lifespan, reducing the frequency of replacements.
3. Versatility in Applications: From heavy-duty industrial use to artistic endeavors, PVC coated galvanized wire caters to a wide spectrum of applications due to its strength, flexibility, and corrosion resistance.
4. Ease of Handling: Despite its dual-layer protection, the wire remains flexible and easy to manipulate, allowing for convenient installation and shaping in various applications.
5. Cost-Effectiveness: Although initially more expensive than uncoated wire, the extended lifespan and reduced maintenance requirements make PVC coated galvanized wire a cost-effective choice in the long run.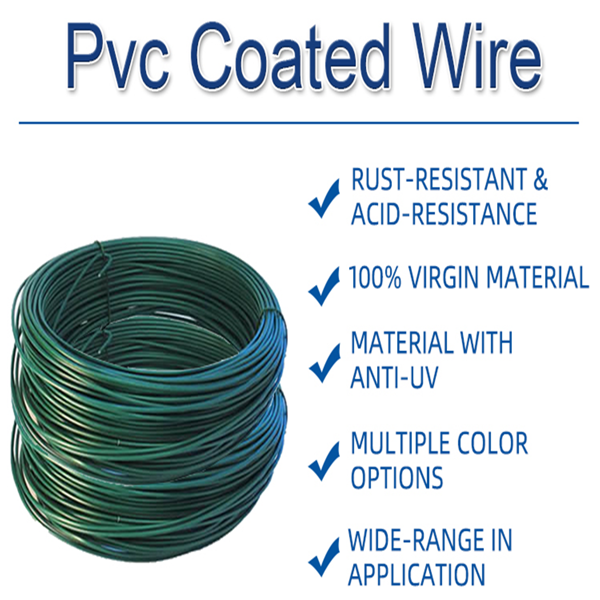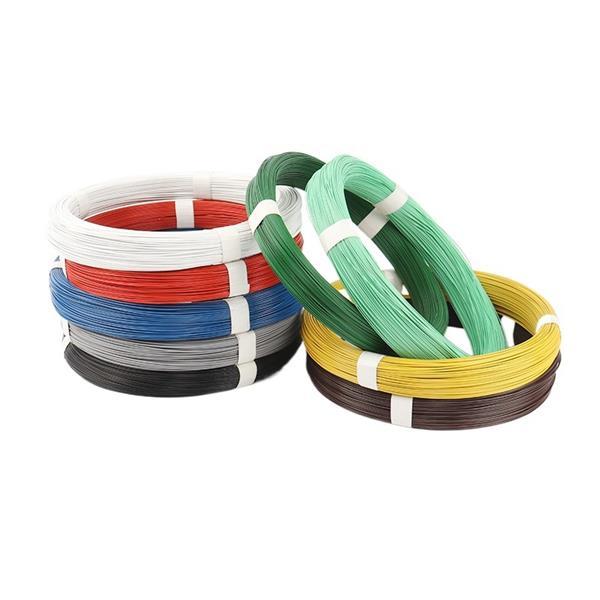 ---
PVC Coated Galvanized Wire Applications
PVC coated galvanized wire can be tied in construction, and can also be made into fences, hangers, paper clips and other products, which are widely used.
* Agriculture: In the agricultural sector, PVC coated galvanized wire finds extensive use in vineyard trellising, orchard support systems, and animal enclosures. Its resistance to rust and chemicals makes it ideal for prolonged outdoor use in diverse agricultural settings.
* Construction: Within the construction industry, this wire is indispensable for concrete reinforcement, wire mesh panels, and suspended ceilings. Its durability ensures structural integrity in both indoor and outdoor construction applications.
* Fencing and Security: PVC coated galvanized wire is a preferred choice for fencing in residential, commercial, and industrial properties due to its long-lasting corrosion resistance and strength. It's also utilized in security barriers and perimeter control systems.
* Crafts and DIY Projects: The versatility of PVC coated galvanized wire extends to creative projects, offering a durable and visually appealing material for art installations, DIY crafts, and decorative applications.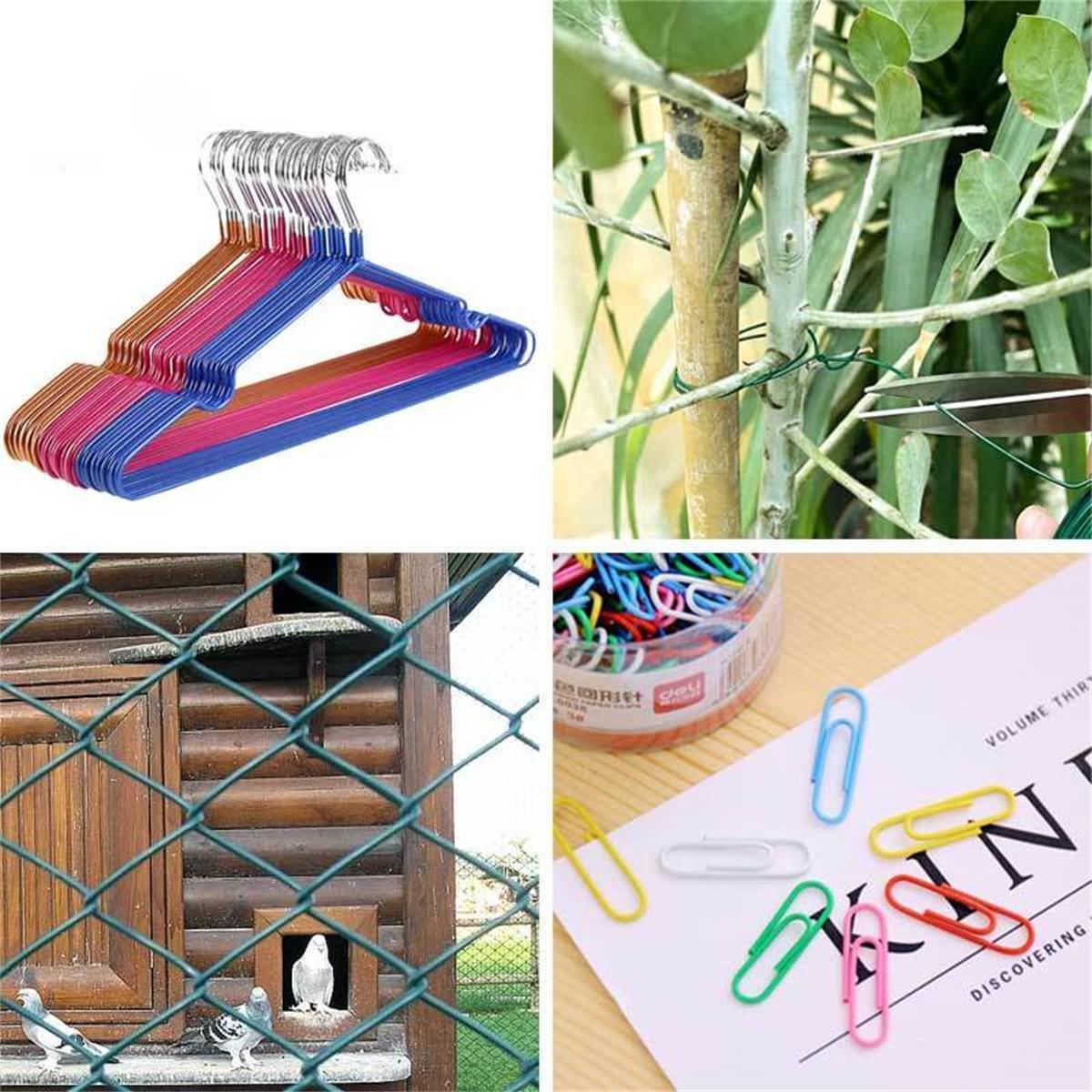 ---
PVC Coated Galvanized Wire Manufacturing Process
1. Wire Drawing: The process begins with high-quality steel or iron rods that undergo wire drawing. This step involves pulling the metal rods through a series of dies to reduce their diameter and create long, continuous wire strands of the desired gauge or thickness.
2. Galvanization: Before PVC coating, the wire goes through the galvanization process to impart corrosion resistance. Galvanization entails immersing the wire in a bath of molten zinc, forming a protective zinc coating on the wire's surface. This zinc layer acts as a barrier against rust and corrosion.
3. Cleaning and Pre-treatment: The galvanized wire undergoes thorough cleaning to remove any contaminants, oils, or residues that might hinder the adhesion of the PVC coating. Pre-treatment steps such as degreasing and pickling prepare the wire's surface for the application of PVC.
4. PVC Coating: The cleaned and pre-treated galvanized wire is fed into a specialized PVC coating machine. There are two primary methods for applying PVC coating:
Extrusion Coating: In this method, the wire passes through an extruder that applies molten PVC onto the wire's surface as it moves through the die. The PVC adheres to the wire and is subsequently cooled to solidify the coating.

Dipping Coating: Alternatively, the wire may be passed through a tank filled with molten PVC. The wire is immersed, allowing the PVC to coat the entire surface. After coating, the wire is cooled to set and solidify the PVC layer.
5. Cooling and Setting: Following the PVC application, the wire undergoes a cooling process to set and solidify the PVC coating firmly onto the galvanized surface. This cooling step ensures proper adhesion and forms a protective barrier against environmental elements.
6. Quality Control and Inspection: The coated wire undergoes meticulous inspection to verify the quality and uniformity of the PVC coating. Technicians check for adhesion, thickness, and any imperfections that might affect the wire's performance or durability.
7. Cutting and Packaging: Upon passing quality checks, the PVC coated galvanized wire is cut into specific lengths according to customer requirements. The wire is then packaged, spooled, or coiled based on industry standards or specific market demands for shipping and distribution.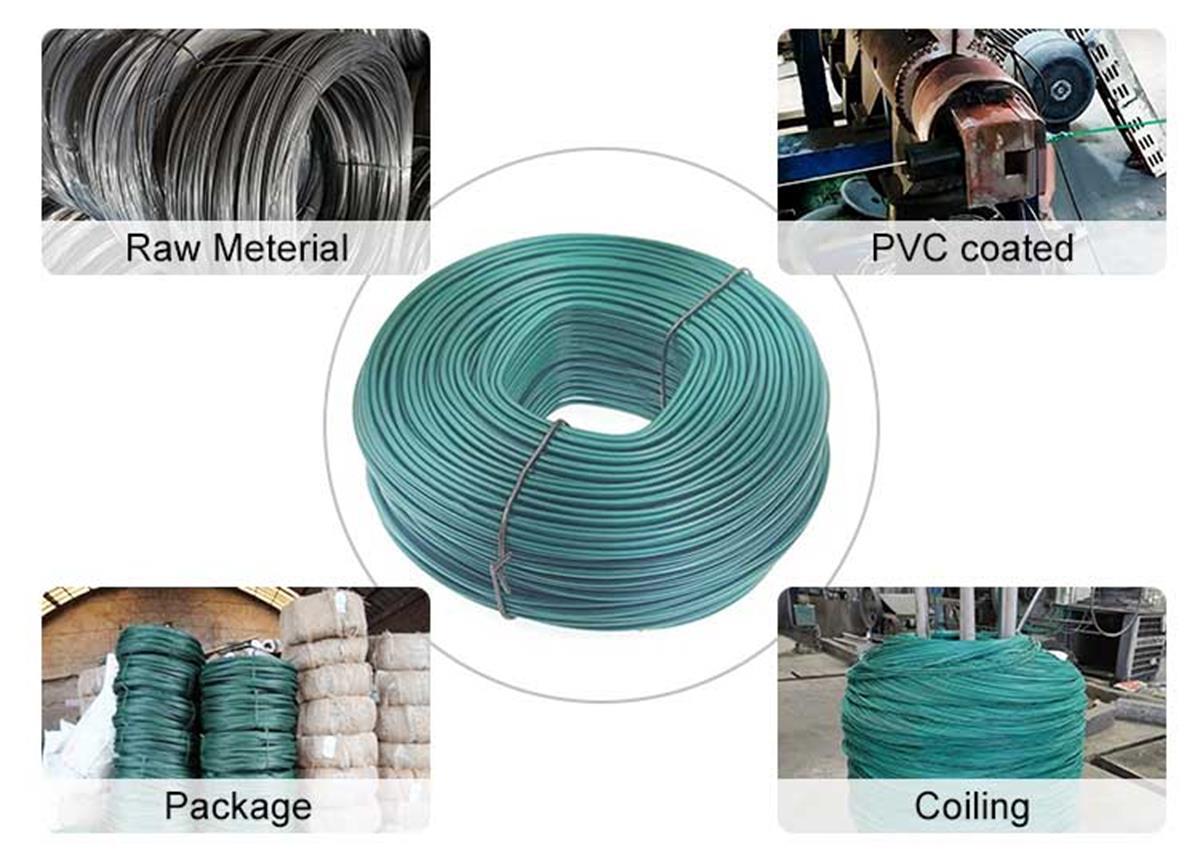 ---
Packing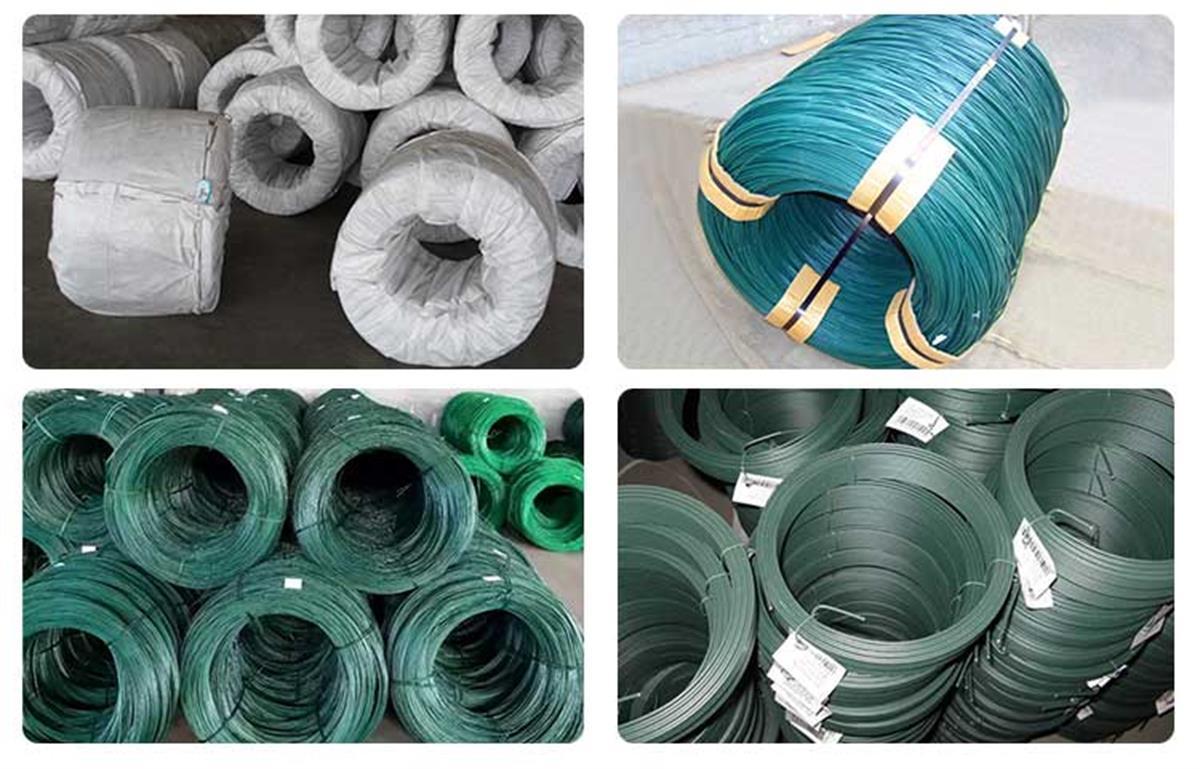 ---
China Wholesale PVC Coated Tension Galvanized Binding Wire Factories
SUNSHINE has own professional team and equipment to inspect product items such as material standard, wire size, weight,tensile strength, and other customer demand. Meanwhile, we could guaranteed the products quality as you expect.
Whether you have specific requirements or need assistance in selecting the right products, our dedicated team is here to help. Contact us today and let SUNSHINE be your trusted partner for all your hardware and construction material needs.
---
FAQ
What do you want to know?
Q:What service can you provide?
A:Accepted Delivery Terms: FOB,CFR,CIF,EXW,DDP,DDU,Express Delivery;
Accepted Payment Currency:USD,EUR,CNY;
Accepted Payment Type: T/T,L/C,Credit Card,PayPal,Western Union,Cash;
Language Spoken:English,Chinese
Q:Are you a manufacturer?
A:Yes,we have specialized in this field for about 15 years experience.
Q:Could you provide sample?
A:Yes,we can provide sample with our catalogue.
(But the courier charge will on your side)
Q:Can we visit your factory?
A:Warmly welcome once we have your schedule we will pick you up .
Q:How do you make our business long-term and good relationship?
A:1.We keep good quality and competitive price to ensure our customers' benefit.
2. We respect every customer as our friend and we sincerely do business and make friends with them, no matter where they come from.
China Wholesale Black PVC Coated Tie Iron Wire